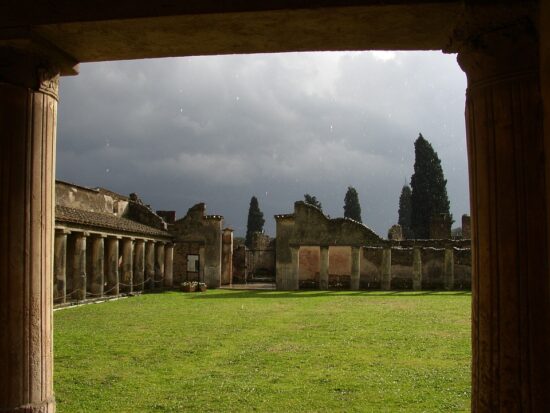 The archaeological ruins of Pompeii cover around 440,000 square meters, a vast area that would take at least three full days to explore completely. Remember that Pompeii is an entire buried city with squares, temples, baths, public buildings, private villas, and shops…just a visit to the city's forum takes about an hour. That said, you can easily follow a shorter itinerary that includes some of the buried city's most famous sites, giving you an idea of what daily life was like in this Roman city. Pompeii was probably founded by the Oscans around the 8th century BC. This ancient Italic people settled on the southern slopes of Mount Vesuvius along the banks of the Sarno River, which was navigable at the time. Pompeii became an important commercial center early on, catching the interest of the invading Greeks and Etruscans. The Etruscans were conquered on the waters off Cuma, and the city came under domination by the Samnites in the 5th century BC.
As a Samnite city, Pompeii entered into the Nucerine League and the tufo stone city walls were both expanded and fortified, allowing the city itself to grow. Pompeii became known as an important exporter of olive oil and wine, benefiting from the Mediterranean free market under Roman protection.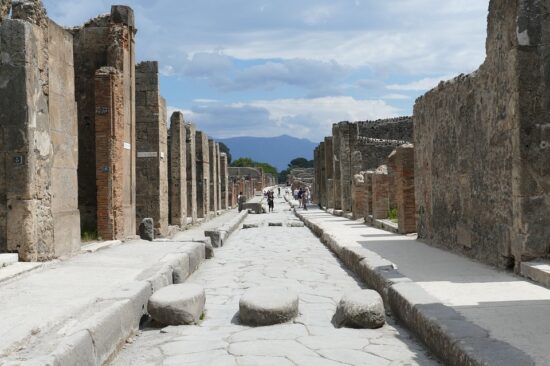 After the end of the Samnite Wars in 80 BC, the city came under Roman dominance and in 89 BC Publius Cornelius Silla took up residency there along with a group of veterans, renaming the city Colonia Venerea Pompeianorum Sillana. During its Roman period, the city reached its architectural and economic peak, transforming into one of the most popular recreational and resort towns of the Roman aristocracy. During the Imperial Age, many wealthy Roman families moved to Pompeii, and buildings like the Temple of Fortuna Augusta and the Building of Eumachia are testimony to this influx. Under the Emperor Nero, the city was seriously damaged due to a strong earthquake in 62 AD, and rebuilding immediately began. Work was interrupted on 24 August of 79 AD by the disastrous eruption of Mount Vesuvius.
There are ten major sites that stand out in Pompeii according to visitpompeiivesuvius.com :
The Large Theater and Odeon. The Teatro Grande, an open-air amphitheater where Greek-Roman plays were performed and the smaller Odeon, used for poetry and musical performances.  The Garden of the Fugitives, an old quarter of the city where the bodies of 13 victims of the eruption in 79 AD who succumbed to the ashes and stone were discovered.  The Ancient Amphitheater built around 70 BC, one of the best preserved in the world. The patrician villa of Praedia di Giulia Felice, a large complex dating from the 1st century BC and one of the first homes unearthed during excavations. The lupanare (lupanar), the city's brothel, one of the most memorable sites within the ruins of Pompeii. The Casa del Fauno (House of the Faun), one of the most spectacular and largest houses in Pompeii, covering around 3,000 square meters. The Villa of the Mysteries one of the most captivating and mysterious in the entire ruins, that belonged to one of the most powerful families in Pompeii during the reign of Augustus. The Foro (Forum), one of the most striking spots in the ancient city: a large square with triumphal arches, public buildings, the basilica, the market and temples. The Basilica, the most important public building in the city, used as a type of courtroom. And finally The Sanctuary of Venus.  More