Geröstete Kalbsleber
Geröstete Kalbsleber nach Wiener Art. Dishes consisting of intestines have long been popular in Viennese cuisine. The origin of the recipe for fried veal liver can be traced back to the bourgeois cuisine of the 19th century & still remains today one of the most typical dishes of the city.
Shallots & mushroom slices are cut lengthwise & are lightly sauteed in vegetable oil while the cleaned veins & skin liver is sliced thinly and then fried also in vegetable oil. After the liver is taken out, it's rinsed with vinegar & 400 ml of stock.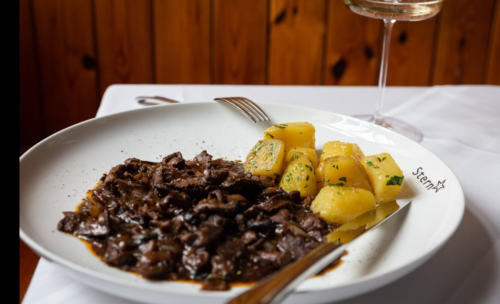 The liquid is left to simmer before the liver is added again & is seasoned with some salt & pepper. The contents are then bound together with some cold butter or a bit of flour to thicken up the sauce. The dish is arranged on warmed plates where some slices of sauteed mushrooms & bacon are added on the side before it is finally garnished with marjoram leaves & served.
A kind provider of our photos and definitely one to help you overcome any second thoughts about this dish is a place known as Gasthaus Stern. Opened in March 2008, the Stern Gasthaus has received awards and certificates for excellence from the TripAdvisor initiative thanks to its excellent cuisine and pleasant ambiance. They look forward to pampering you as their guest when you decide to visit the Austrian capital.