Erdäpfelsuppe
Erdäpfelsuppe. Another equally popular soup on the Viennese menu is the Viennese potato soup. Although potatoes were introduced into Viennese cuisine as early as 1588 they only became popular during the food shortage of the Napoleonic Wars. Since then they have been an omnipresent component of the Austrian household's nutrition.
Potatoes, mushrooms, onions, carrots, celery & bacon are cut into small cubes, sauteed for a few minutes & blended until the mixture becomes smooth. Some flour & beef broth is added to thicken it and make it heartier. The soup is then seasoned with salt, pepper, marjoram, caraway seeds, crushed garlic, chopped parsley, celery leaves & bay leaves. It is served in warm soup bowls after it's sprinkled with some chopped chives.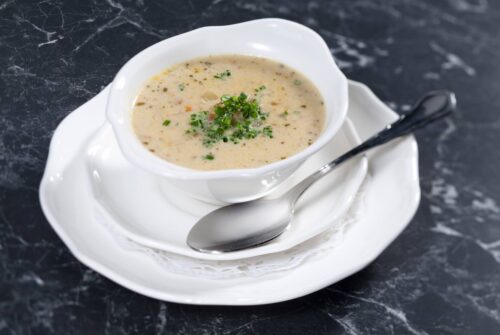 It's probably a very cheeky deduction of sorts to pair the most historic establishment of Vienna with any kind of soup but..they do make a splendid Viennese Erdäpfelsuppe there, so why not try this in one of the most aristocratic venues of Vienna? A place frequented by iconic figures like Trotsky and Freud.
The menu at Café Central includes a broad selection of classic Viennese dishes, traditional coffee specialties, and sweet treats from the in-house patisserie. Soak up the historic surroundings as you sample Café Central's mouth-watering choice of culinary creations.
With its unique Mediterranean flair, the Arkadenhof is the perfect setting for formal and informal functions – not to mention press conferences or private meetings away from prying eyes. Just like Altenberg enjoyed it. Who incidentally walked out without paying.