Backhendl
Backhendl. This one can be served as a hearty main dish at a traditional Viennese restaurant or as one of the main choices of Viennese buffets. Backhendl is a staple of Austria's culinary tradition. It's a true Austrian invention and a Viennese original.
The fried chicken was first mentioned in a Salzburg Cookbook for High Society at the beginning of the 18th century. The fried chicken was very much in vogue amongst the Viennese aristocracy especially during the period of Biedermeier (early 19th), when the Backhendl became the culinary symbol of wealth for both the Viennese aristocracy & bourgeoisie.
By the mid-1850 the Backhendl was a part of the kitchen for everyone. For the recipe to work the skin of the chicken is removed and the meat is cut into pieces, salted & dredged in flour.It is then coated in beaten egg yolks & breadcrumbs.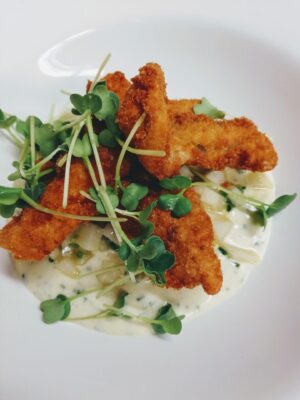 Finally, the chicken is deep-fried & drained well. It is garnished with some briefly fried parsley & ideally accompanied by a glass of white wine & potato salad. Our choice and kind provider of our photos, the restaurant APPIANO Das Gasthaus.
This is a 110-year-old traditional inn with a lot of history, that offers creative dishes made from the best ingredients. You can choose from a wide range of daily specials, quick, uncomplicated lunch menus, of the best quality and good value for money, as well as seasonal delicacies. The place tries to use regional as well as organic products in what can be considered as sustainable dishes.
The entire range of beverages consists mainly of Austrian products, from the private Trumer brewery to Tirola Kola, organic juices, and organic tea. More