So many orchestras. So little time
So many orchestras. So little time. The Vienna Philharmonic Orchestra is just one of the renowned orchestras of the Austrian capital. Especially recommended for your first acquaintance with the world of classical music are the almost daily performances by orchestras made up of musicians from the ranks of the Vienna Philharmonic & Vienna Symphonic.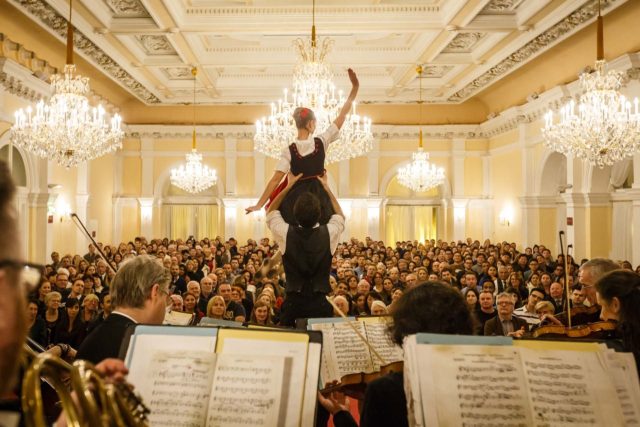 Such are for example the concerts organized by the Sound of Vienna concert agency with the focal point of their work being the Strauss & Mozart Concerts by the Salonorchester Alt Wien (https://www.soundofvienna.at/en/). The concerts take place daily in the Kursalon Wien (http://www.kursalonwien.at/en) in the exquisite palace in Vienna's City Park where the famous golden Strauss statue is located. This is the place where the famous Strauss brothers performed their greatest successes.
The newly renovated Orangery of Schönbrunn Palace, (https://www.imagevienna.com/en/en-home.html) the largest orangery building in the world serves as host for the Vienna Schönbrunn Palace Orchestra where every evening renowned singers & ballet dancers accompanied by the Chamber Orchestra perform the most famous works of Mozart & Strauss in historical costumes.
The historic rooms of the Imperial Hofburg Palace resound the most famous waltz & operetta melodies performed by 36 musicians and 6 international vocal soloists from the city's largest orchestral societies every Tuesday, Thursday & Saturday from May until mid October & additional every Wednesday from June to September in the majestic Hofburg Festsaal (https://www.hofburg.com/raeume/mezzanin/hofburg_festsaele/festsaal) And of course, there are always the holiday concerts played during the Christmas days in the atmospheric setting of the Great Ballroom of the Vienna Hofburg. The New Year's Eve & New Year's Concerts take place in the Golden Hall of the Vienna Musikverein. More : https://www.hofburgorchester.at/en/
The Vienna Mozart Orchestra plays in concerts with internationally renowned singers and soloists – all in magnificent historical costumes and wigs – and creates a special atmosphere in Vienna's largest and most famous Concert halls, like State Opera, Musikverein Golden Hall and Konzerthaus  https://www.mozart.co.at/home_en.php