Schie con polenta
Schie con polenta. The schie are typical of the Venetian lagoon shrimp which are usually fried and accompanied by a soft portion of white polenta made from corn flour, typical of the Veneto region.
The schie are small gray shrimp and are slightly different from the classic shrimps, they are always crustaceans but with a unique taste, whose pulp is rich in flavor; authentic delicacies that can be found only and exclusively in the lagoon area between Venice and Trieste.
Today the schie are found mainly in the winter period and are still sold alive at the fish counter. Their liveliness determines an absolute degree of freshness of the crustacean.
Once the schie was considered a poor man's meal, today they are local favorite eaten fried or stewed by both locals and visitors alike. The schie must be cooked and eaten with the whole shell, which makes them a crunchy delicacy to accompany in contrast to the softness of the polenta.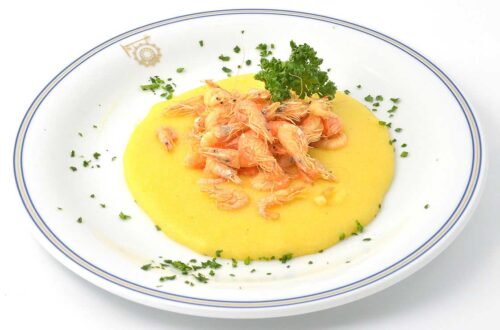 Restaurant Do Forni is a safe choice for this dish and a kind of provider of our photos. The history of Do Forni restaurant hails back to the most characteristic and ancient traditions of the city.
During the golden years of the Venetian Republic, the bakery producing bread and sweets for the nearby convent of San Zaccaria (the Doge's Palace) was located here, in fact, and a small part was used as a typical Venetian tavern (with cicchetti appetizers).
After the fall of the Venetian Republic in 1797, the tavern was expanded to include the area previously used as a bakery. It became a restaurant in the nineteenth century under its current name and it has been under the care of Mr. Eligio Paties since 1973.
Through his passionate vocation, understanding of the cultural importance of cuisine, and innate hospitality, he has successfully turned to Do Forni into a popular destination for all those who travel to Venice and wish to experience the noblest traditions of Venetian hospitality.
Do Forni Restaurant offers a traditional and elegant setting in its Venetian-style rooms, and luxurious in those rooms that faithfully reproduce the hospitality of an Orient Express dining car.
Do Forni feature traditional Venetian cuisine, mainly based on seafood, with a menu offering fish and shellfish from the Adriatic Sea using centuries-old Venetian recipes enhanced by seasonal vegetables and delicate sauces, but also a refined interpretation of both Venetian and Italian cuisine that is influenced by international gastronomy in its preparation of local meats and vegetables?