Risi e bisi
Risi e bisi. The thick rice and peas soup is a dish that belongs to the ancient culinary tradition of the Serenissima and which quickly spread from the inland plains of Vicenza.
With the intensification of trade relations between Venice and Vicenza the agricultural products and especially the peas are grown on the slopes of Berica just south of the City of Vicenza reached the lagoon city, where they were particularly appreciated. Rice and peas became the celebratory dish of spring, given that this was the season in which the first crops of peas were harnessed.
The dish was served to the Doge in the room dedicated to banquets of the Ducal Palace on the occasion of the celebration of the patron Saint Mark every April 25. It is possible though that the origin of the dish might be even older since it is linked to the Byzantines with which Venice had a long relationship that dated back to the origins of the city.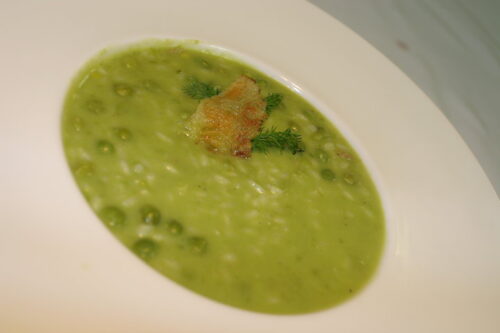 If you need one that will make this plain by all means dish and make your head spin then you should try the Bistrot de Venise. The Bistrot de Venise, a Restaurant in the heart of Venice, was first opened in 1993.
It is a place where people can meet up and savor the Cuisine & Wine as they enjoy figurative arts, poetry, cultural gatherings, and a host of other activities dedicated to Venice.…in 1999, the Bistrot de Venise took its concept of blending culture, food, and wine from the Veneto region a step further when it began to carry out research into Rare Wines and Historical Venetian Cuisine. …
Steadfastly continuing along this path today… Bistrot de Venise is considered one of the Best Restaurants in Venice.