Bigoli in Salsa
Bigoli in Salsa. Bigoli is the Venetian contribution to the big family of Italian pasta. It is similar to spaghetti pasta noodles, except slightly thicker with a small hole in the middle. Bigoli is also slightly darker than regular pasta because it is made of buckwheat flour (back in the days) or whole wheat flour in modern times.
According to tradition bigoli in salsa were consumed during Lent as a penitence dish, especially during Christmas Eve, Holy Friday, and Wednesday of the Ashes or in the evening before the Venetian feast of July 19th (La Festa del Redentore) that commemorates the end of the devastating plague that wiped out a great part of the Venetian population in 1575.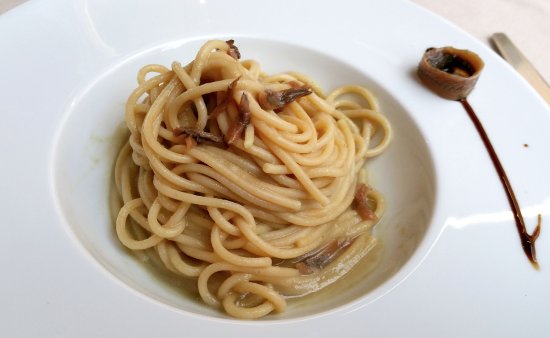 It was only a few years later, around 1600 that a pasta maker from Padova, then still part of the Venetian Republic, invented machinery that could produce a different type of pasta, from thick bigoli to thin spaghetti. The Veneto region and especially the city of Venice embraced the first. The original recipe included only the use of flour and water.
The eggs were added in the pasta mix in recent times. First, the dough was kneaded and then left to rest for a couple of hours. It was then placed in the machine called  "bigolaro", which was maneuvered by hand and the thick bigoli came out of its "mouth", almost like the minced meat at the butcher. They were then hung on a wire to dry. The traditional sauce for bigoli uses two main ingredients, anchovies and onions. The anchovy fillets are mashed in olive oil until a thick sauce is produced. It is then used to lightly fry the sliced onions before it coats our delicious pasta. Venice is on a plate.
For some of the best bigoli in Venice, you should try La Rivista Restaurant. You are sure to be thrilled at the sight of Fortunato Depero's superb painting "La Rivista", exhibited in the dining hall From this project grew a concept, an inspiration: Futurism to furnish and fashion the idea of a restaurant in which the dishes are inspired by Venetian tradition. The details create a refined atmosphere of the environment in which the lamps remind us of the old Neapolitan coffee brewers, the tables are in blue Starlight marble, whilst the small ochre-yellow sofas have a retro feel.
Passion, tradition, imagination, seasonality – these are the watchwords of the Chef. The base ingredients for each dish are passion and imagination that forge a union with taste and history. The fresh ingredients are always seasonal and confer bold yet harmonious flavor to the dishes. "La Rivista" offers traditional recipes, along with vegan and vegetarian options, and a special futuristic menu.