Visit San Giorgio Maggiore
Visit San Giorgio Maggiore. The bright white Church of San Giorgio Maggiore is located at the Isola San Giorgio Maggiore and is visible from St. Mark's square since the small islet is just one stop away with the vaporetto from St Mark's. The first church was built on the site at the end of the 8th century but the one we see today with the impressive facade was completed in 1610. The whole architecture and the bright white color are very much like a classic temple that is especially impressive on a clear sunny day as a contrast to the deep blue of the sea that surrounds it.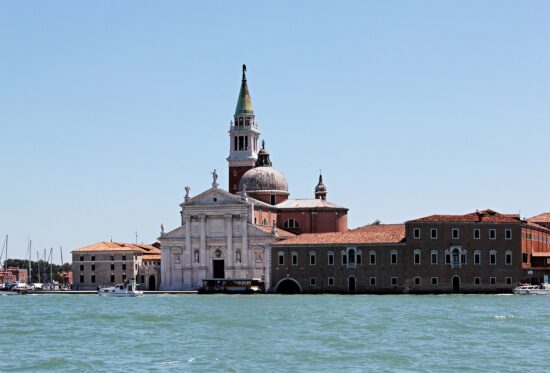 Today the island is the headquarters of the Cini Foundation arts center, known for its library, frequented by University students, PhDs, post-docs, professors, writers, and artists willing to pursue some research work in Venice libraries. It is also home to the Teatro Verde open-air theatre. and of course, the amazing monastery and church that are definitely worth a look inside.
A lift takes you to the top of the bell tower which offers an amazing panoramic view of most of Venice and around the lagoon. Go on a clear day or best with the sun setting across the islands. You will get a much better perspective of the city than the one from the campanile of Saint Mark's.