Watch a concert in Chiesa San Vidal
Watch a concert in Chiesa San Vidal. See the show by Interpreti Veneziani in Chiesa San Vidal and get accustomed to Vivaldi's masterpieces like four seasons performed live in a place with a wonderful acoustic by some of the most talented musicians in Italy. Interpreti Veneziani is a talented group of musicians that have appeared in places like the Royal Palace of Stockholm, the Prague Music Festival "Václav Hudeček" and the Tokyo Suntory Hallmore while it performs for more than 60.000 viewers every year from all around the world.
The Interpreti Veneziani was born in 1987, immediately establishing themselves for "… the all-Italian exuberance and panache that characterizes their performances". A point of reference in the international music scene, Interpreti Veneziani begin their XXX Concert Season in Venice which attracts more than 60,000 spectators a year from all over the world.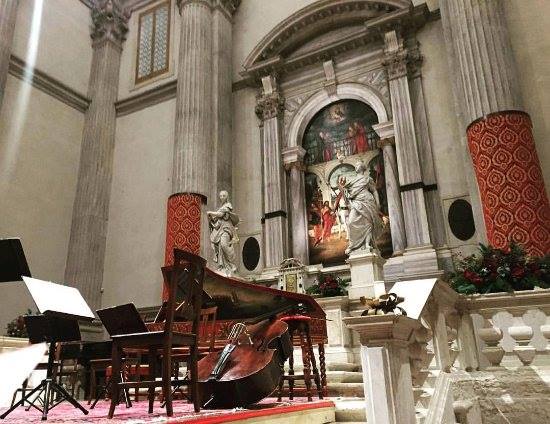 Among the important achievements we should mention the participation in the Melbourne Festival, the Bayreuth Festival, the Prague Music Festival "Václav Hudeček", the concerts at the Royal Palace in Stockholm, the participation in the worldwide telemarathon at the Kirov Theater for the " revival of the name of the city of St. Petersburg", the concert at the "Symphony Hall" in Osaka live on Japanese radio, the concerts at the "Suntory Hall" and "Kjoi Hall" in Tokyo.
United States, Japan, Canada, Latin America alternate each year in their calendar with concerts in the most prestigious halls. In 2013, they performed for the first time in India. This year they will return to South America and Japan.
The recording activity of the Interpreti Veneziani ensemble boasts the production of a first compact disc produced by the Musikstrasse record company with music by Giuseppe Tartini, 19 compact discs and an LP recorded with the InVeNiceSound record company.
San Vidal is a former church built in 1082 and reconstructed in the 17th century in today's form. The venue and the ensemble is a perfect combination of Venetian delights.Venice is Vivaldi's birthplace after all. More