Enjoy a Venetian panorama
Enjoy a Venetian panorama from St Marco's Campanile or the Torre dell'Orologio. Both towers are located in St. Mark's square. St. Mark's Campanile is of course one of the most prominent symbols of the city of Venice standing 98 meters tall near the front of the Basilica. The campanile is believed to have originated from a light-house or a watchtower that stood in its place almost from the very beginning.
Its current form was first acquired in the start of the 16th century while the loggetta at its base was constructed a few decades later. In 1902 the whole thing came tumbling down and had to be rebuilt from the start. To marvel, at the amazing views from its top, you don't have to climb up the stairs. There's a lift that can get you up on the viewing platform that can offer the best views of the heart of Venice, a bird's eye view that can reach all the way to the Alps if the weather is clear enough. More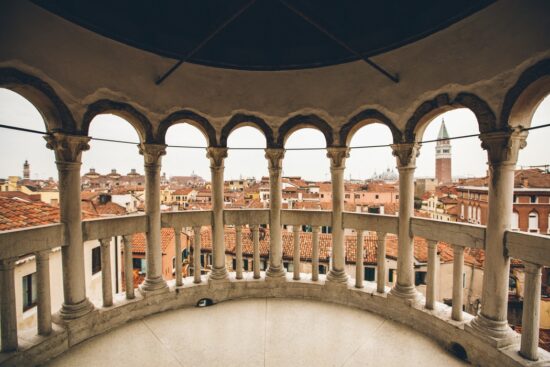 The Torre dell'Orologio or Torre dei Mori overlooks the access to the city's crucial commercial street, the ancient Merceria, like a triumphal arch. It is an early Renaissance element of connection between the various architectural parts of the complex of Piazza S. Marco. With its large astronomical clock, a masterpiece of technique and engineering is an indispensable element of the image of Venice itself and marks its life, history, and the continuous passage of time for five hundred years exactly.
Besides the views you can get from the top (the terrace of the Moors) you can also enjoy the small room which illustrates the history of the tower on the first floor, the complex Clock Machine which can be seen up close, the wooden statues of the Magi and the Angel, the tàmbure and the two gigantic bronze automata traditionally known as the Moors. More