Wine, wine, wine…
Wine, wine, wine…. No one can drink enough wine in Tuscany. It is a region world-famous for its quality wines. Its rich vineyards are appreciated by wine connoisseurs across the globe. The region of Siena alone produces more than 750000 hectoliters (100 liters) per year and it's the only one in Italy to boast the production of 5 DOCG (quality assurance label for Italian wines) wines: Chianti, Chianti Classico, Brunello di Montalcino, Nobile di Montepulciano, Vernaccia di San Gimignano.
These are joined by 12 more DOC (quality denomination of origin) red, white, as well as sweet wines:  Central Etruria Hills, Moscatello di Montalcino, Orcia, Rosso di Montalcino, Rosso di Montepulciano, Saint Gimignano, Sant'Antimo, Val d'Arbia, valdichiana, Vin Santo del Chianti, Vin Santo del Chianti Classico, Vin Santo di Montepulciano.
Would it be wise to focus in just a few of them so that you don't get lost? Well it would be a shame to leave out some of them if you have the time for a tasting. Still here are some of the basics:
Brunello di Montalcino comes from the sunniest area of the hills of Montalcino. Montalcino is 40 kilometers far from Siena and is one of the most popular destinations among wine and food lovers. Brunello di Montalcino is exclusively obtained from the large Sangiovese grapes which were renamed " Brunello ", because of their dark-red color. It is a wine that withstands exceptionally long aging, even fifty years. It pairs well with roasts and above all with the game. (Description / more)
The Chianti Classico must be on the list of every visitor to Siena. It is a wine produced on the hills between Florence and Siena from Sangiovese, Canaiolo, Trebbiano, and white Malvasia grapes with the addition of other grapes like the Mammolo, the Colorino, and raisins. When it is aged for at least two years it is called Chianti Vecchio.
It becomes Riserva when it has been aged for at least three years in oak butts. Young and very young Chianti Classico is suitable for all dishes of the Tuscan cuisine. When aged it is a suitable wine for red or white meat dishes, but it is better with the delicious roasts. It combines in an outstanding way with mature and strong cheese. Description / More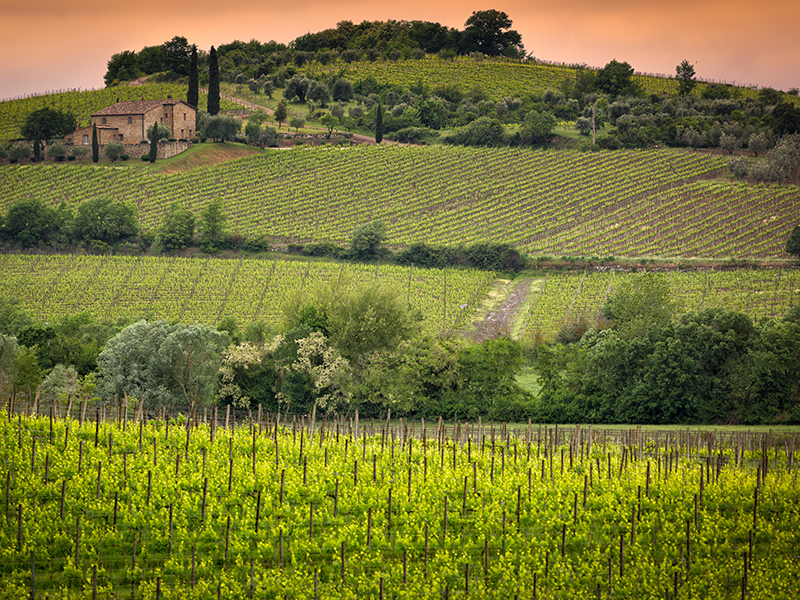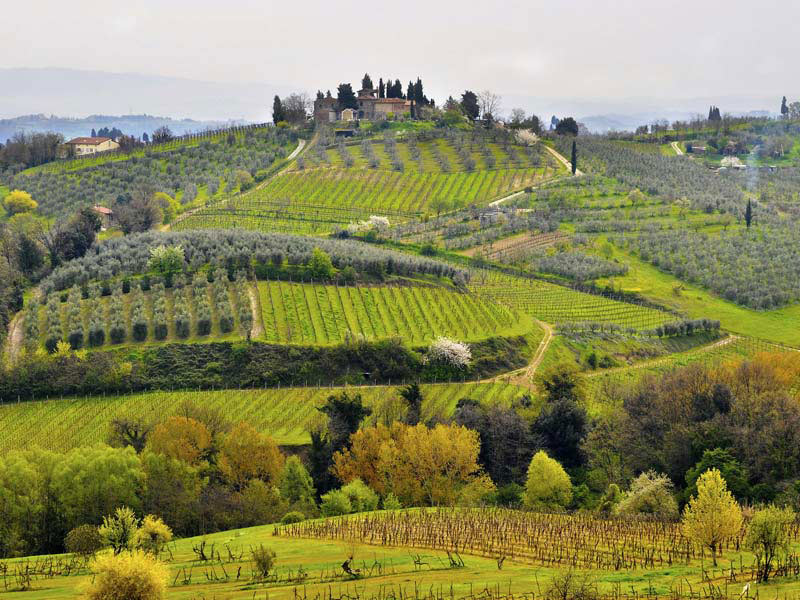 Nobile di Montepulciano is one of the oldest in Italy with the Etruscans probably being the first to produce it.
It comes from the vineyards which surround Montepulciano, a picturesque hill town 25 miles (40km) southeast of Siena, southeastern Tuscany.
Viticulture here dates back many centuries to Etruscan times. During the 15th century, the local wine was a favorite among the local Sienese aristocracy, and in the 16th century, it was revered by Pope Paul III, who spoke of the wine's excellent qualities.
Vino Nobile di Montepulciano was written about in the poem "Bacco in Toscana" (Bacchus in Tuscany) by Francesco Redi, who described it as "the king of all wines", and the wine was also mentioned by renowned French writer Voltaire in his book Candide. It is an excellent wine for roasts but also combines well with white meat, game, poultry and above all pheasant. Description / More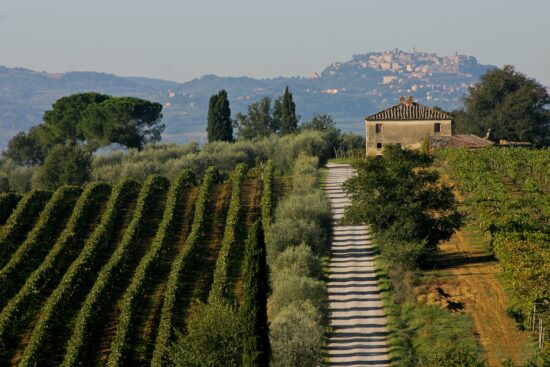 Vernaccia di San Gimignano is an excellent white wine, typical of the sunny area of San Gimignano. It is the first Italian wine to receive the DOC label (now DOCG) and the area of production is very restricted because it coincides with the town of San Gimignano, famous for its medieval towers that dot the landscape. Taste Vernaccia with appetizers and seafood dishes, or try it with the aperitif. More