Pappardelle al cinghiale e olive nere
Pappardelle al cinghiale e olive nere. The Wild boar stew with olives is a delicious treat typical of Tuscan cuisine. Tender pieces of marinated in wine and spices wild boar meat are slowly cooked with tomato sauce and olives. The wild boar is a prominent symbol of the so called Old World Kitchen or rural European cuisine appreciated throughout history by the hunters of Tuscany.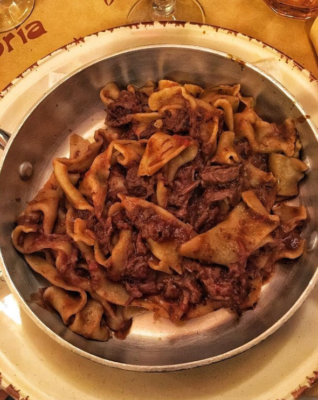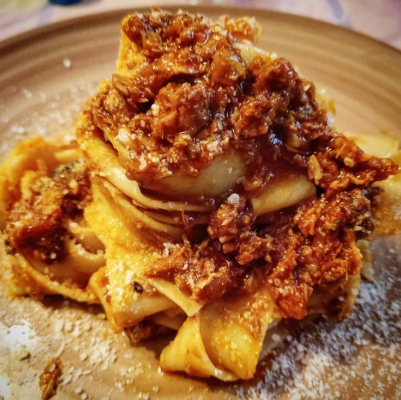 The wild boar stew with olives is prepared in the cold months when it can be eaten with polenta or slices of toasted bread. It is however more often combined with pappardelle pasta or risotto. Onion, celery, bay leaves, rosemary, onions, olive oil, and red wine are the key ingredients of the meat stew that gets going when the boar cuts are finally released from the bowl of spiced marinade, usually a whole night (10 to 12 hours) and left to simmer in a large pot filled with wine, chopped veggies and of course the marinade. When ready the stew is mixed with a generous amount of pasta that absorbs the most part of the liquids. The large black olives and fresh rosemary on the top completes this masterpiece of simple Tuscan magic.