Involtini di cavolo verza di porcini
Involtini di cavolo verza di porcini..or Involtini di cavolo verza in guazzetto di porcini if we want to be accurate. Cabbage rolls with porcini mushrooms sauce. The porcini mushrooms are minced and placed in a bowl with garlic, olive oil, broth, salt and pepper. 2 fresh pork sausages are peeled from the outer skin and sauteed along with some chopped onions, cabbage leaves and some minced veal meat before they're quenched with white wine.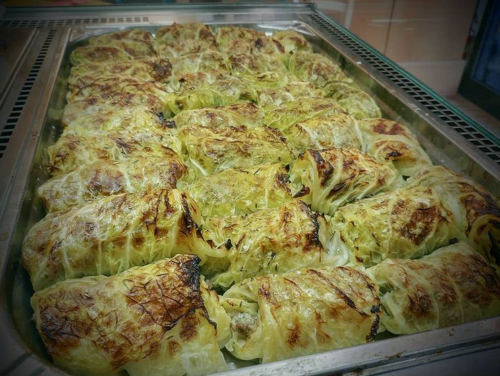 Cabbage leaves are steamed and used as roll wrappings. The wrappings are stuffed with a dough made of roasted bread and pecorino cheese and the rest of the ingredients and placed in the oven for about 20 minutes. When ready they are showered with their own juice and garnished with chopped parsley.