Learn everything about Tuscan Wine
Learn everything about Tuscan Wine Eat and drink wine…It's a thing you must do when you're an adult in one of the capital cities of Tuscany. There are countless guided wine tours inside and outside Siena, and numerous wineries in its vicinity famous all over the world for their quality indigenous varieties. There are even short school-like sessions that require no background knowledge of wine, which can make anyone fall in love with this divine drink. Try to pair your tastings with local products and recipes…Pizzas and sodas you can find anywhere.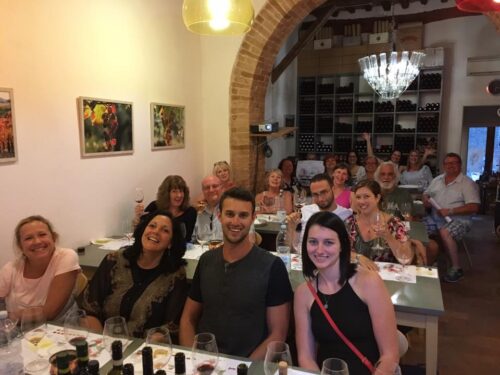 From its early days, Tuscan Escapes has since become part of a bigger family and merged with the Tuscan Wine School in Siena where you are offered wine classes & tastings as well as a wine bar and wine shop & online Tuscan wine blog. A place in Siena city center for having a great glass of wine in good company & where you can book and inform yourself on all their activities and last-minute wine tours and send home wines. We have them to thank for our photos.