Book a bike tour
Book a bike tour. The city's scale is ideal for a quick get-to-know ride. Led by an expert guide you will be in a position after only 2 hours to navigate alone very easily in this Tuscan gem. According to Siena Bike Tour the ride offers a quicker, wider, and more enjoyable approach to visiting the city and its territory: Chianti, Crete Senesi, Val di Merse, Val d'Orcia, Val d'Arbia outside of the usual places that are found on picture postcards. With assisted pedaling bicycles it is possible to reach sites of scenic and cultural interest that would be too difficult, or too distant, to access on foot.
Ad hoc routes can also be created which can be followed independently or by taking advantage of Professional tour Guides. The bicycle tour philosophy is designed to offer a pleasant mix of relative physical effort and enjoyment of culinary delights together with a comprehensive visit to Siena, UNESCO World Heritage Site, and its surrounding territory.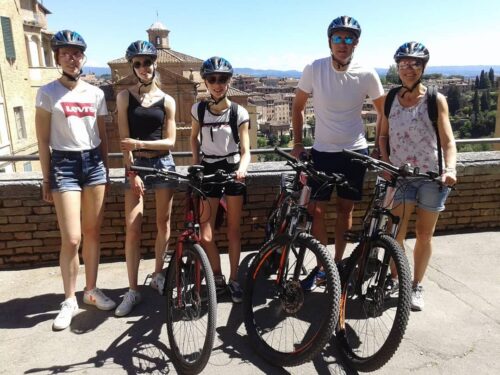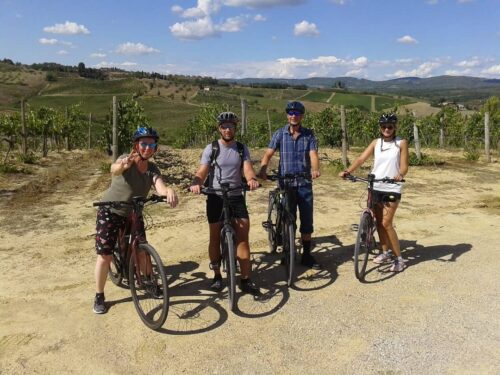 Everyone can enjoy the attractions of the architecture, history, culture, scenery, and gastronomy of this area so that at the end of the holiday you don't remember just "that wine", "that climb", "that Church", but remember "the wine drunk at the farm next to the wonderful church that made the effort to get there worthwhile".
The rides in the lands of Siena have been carefully planned and drawn up to offer tours with visits to typical and important ancient monuments such as the Cistercian Abbey of San Galgano with nearby Montesiepi and its Sword in the Stone; Montalcino and the Abbey of Sant'Antimo founded by Charlemagne; Pienza, the ideal city built by Pope Pius II Piccolomini; the Archicenobio of Monteoliveto Maggiore built in the desert of Crete or the hidden gems of the Hermitage of San Leonardo al Lago, the Parish Church of San Polo in Rosso or the Romanesque cloister of Torri…
The roadways traveled are the Eroica and the Via Francigena, the Lauretana, and the Cassia. The places visited are among the oldest and most renowned in the area (some equipped for the comfort of the rider) and the food and wine is either home or locally produced. The itineraries are carefully studied to bring together the best that our region offers to the traveler: Landscape, History, Art, Culture, and Wine & Food.