Fritura Andaluza
Fritura Andaluza. Sevillanos love meat, adore jamon but that does not mean that they don't have a soft spot for seafood as well. After all Seville's relation with the sea has deep roots. The city is one hour from the Atlantic and two from the Mediterranean coast. Fresh fish is abundant. All sorts of it. Pescado frito or Fritura Andaluza is the definition of all sorts of it.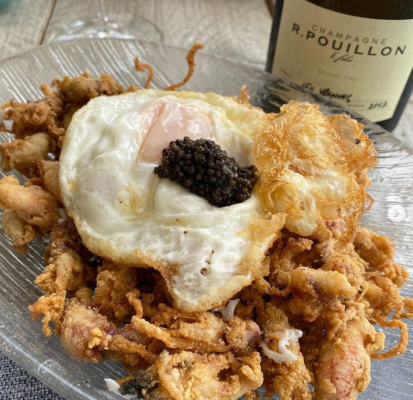 `
It can include sardines, anchovies, squid, shrimps, cuttlefish, mullet and the list goes on and on depending on the season, the day, the restaurant or tapas-bar you visit. There is a standard and that is olive oil. All of them are coated in flour and deep fried preferably in extra virgin Andalusian olive oil. This is what makes this dish special.
Freiduria Reina Victoria is an excellent choice for this one. Top quality products that will bring the best flavor to your table in Triana. Here you will find the whole range of the Fritura, from Squid to Prawns, Bocaítos, Cod well everything that can be you'll find it fried here.