El Caminito del Rey awaits
El Caminito del Rey awaits. It was once known as the most dangerous hike in the world. Today El Caminito del Rey is one of the most popular attractions in Spain. To travel to Caminito del Rey is to immerse yourself in an exciting adventure that involves time travel.
El Caminito del Rey is a tour of the Gaitanes Gorge, on its cliffsides. With a length of 3 kilometers that has long stretches and a width of just 1 meter. It begins in the town of Ardales, crosses the one of Antequera (province of Malaga), and concludes in El Chorro (Álora). The path of the hike is vertiginous as it hangs from the vertical walls of the gorge and at an average distance of 100 meters above the river.
Its name dates back to 1921 when King Alfonso XIII crossed this road after the inauguration of the dam of the Count of Guadalhorce. It was then that it began to be called El Caminito del Rey. The passage of time and its disuse caused it to deteriorate greatly and become the most dangerous path in Europe, claiming numerous victims. In 2014, rehabilitation works began for the regular transit of visitors. A year later, a 7-kilometer path was opened to the public without any risk to pedestrians.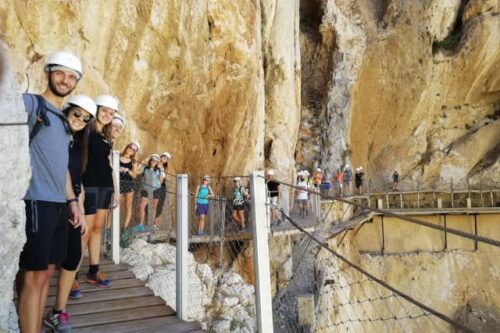 The route runs between the Guadalhorce-Guadalteba reservoir and the town of El Chorro. A parallel walk to the railroad tracks where you can walk and enjoy the famous gorges of the Gaitanes and the Gaitanejo. If you decide to take the guided excursion to Caminito del Rey from Seville by Naturanda then after a brief welcome talk at the gateway to the trail, you will begin your walking route crossing the 7 kilometers restored path.
Τhere you can enjoy the breathtaking views and interpret all aspects of this natural environment in the company of your guide. Once the Caminito del Rey is finished, your transport will pick you up to transfer you to a restaurant in the area for lunch and taste the typical cuisine of the Sierra de Málaga or enjoy free time to enjoy your own meal or picnic if you so, please.
After the break and taking in the last views offered by this magnificent natural landscape, the walls of the gorge, a path that began in this natural environment and that can end in your imagination, you will head back to Seville. There you will arrive approximately at 19:00h with the lasting memory of an extraordinary day. More details