U Vejvodů (Bar & Restaurant)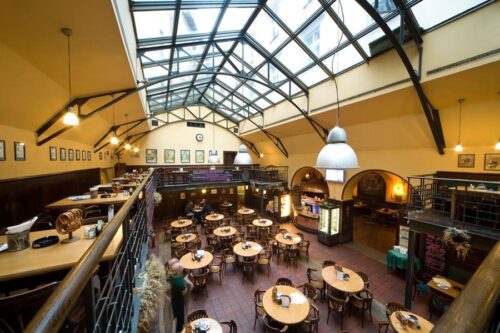 The restaurant U Vejvodů is situated in the historical centre of Prague, not far from Staroměstské náměstí (Old Town Square) at Jilská 4. This restaurant is famous not only for its typical Czech atmosphere in the style of the Old Bohemian alehouse, but also for its "Plzeň" beer of excellent quality and traditional Czech and international cuisine.
In the Restaurant U Vejvodů there is always good cheer, for which many top men have already sat here. They visit this place for their pleasure, both the rich and the humbly poor. Eat your fill with cheer, but drink should not be overdone. There is plenty of everything here and every guest is welcome. During its operation,  this restaurant has received several pleasant evaluations in the form of letters of thanks from the highest representatives of the Czech government, artists and members of the diplomatic corps and authorities.