Steak Tartare
Steak Tartare. If you thought frog legs are gross you better brace yourself for this one. The first mention of the Steak Tartare was given in 1921 by the legendary French chef Auguste Escoffier (he was the chef who popularized modern French cooking in the early 20th century).  For those that are not accustomed to French cooking let's say that tartare in meat is the equivalent of sushi in fish. Yeap. Raw.
Obviously, there must be more to it than its rawness. Right?…Well not so much more. There is a raw egg on top of the minced beef tenderloin if that accounts for something but other than that the dish is as plain and as vampire diaries as it goes. Should you be concerned about health issues? Well if the meat is fresh and from a trusted source then you have no reason to worry about it.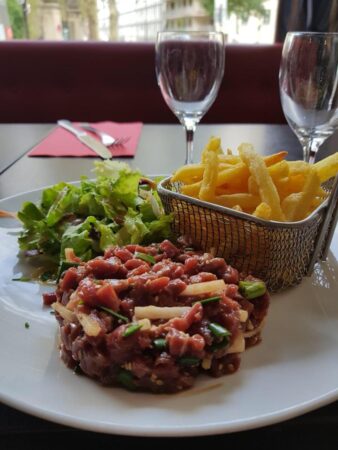 What would be great is for you to try this in a bistro or restaurant that is actually specialized or has a good reputation for its quality of meat. That would be surely the case of  Il était un square. a friendly and unpretentious bistro in the Corvisart district (54 Rue Corvisart) where t artists, teachers, architects, and journalists of the World meet and have their burgers and tartars made from Aubrac (rustic) beef from the traditional farms of Aveyron, prepared by the artisan butcher Benoît Enicolo. Their buns are made by their baker GRAINES DE CREATEURS. French fries and mayonnaise are homemade, cheeses are refined and all wines are carefully selected.