Huîtres
Huîtres. If you are into fish food then you'll love the Parisian obsession with Huîtres  (pronounced "wee-tra" , without the h) meaning oysters. There are two kinds of oysters usually found in Paris. The European or plate oyster and the Pacific or Creuse oyster. Almost all of them are farmed nowadays. If you want to go for a higher quality then you have three choices. The Fine de Claire, the Spéciale de Claire and the Pousse en Claire are the oysters that meet the highest standards of quality.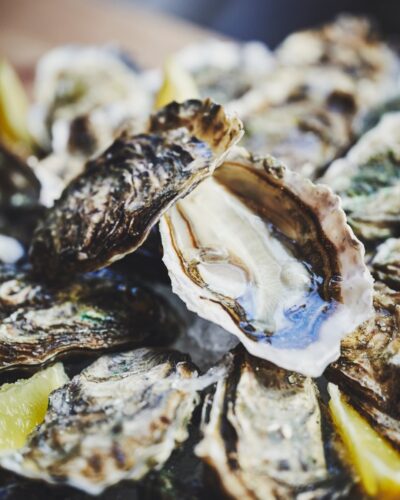 This exquisite fish delicacy although according to some (not for us) an acquired taste is so tasty that is better eaten raw with just a dash of fresh lemon. Of course, culinary wonders can occur when they are used as basic ingredients for a fish pasta or risotto but our suggestion is to go all in and order a plate of raw oysters served on their own, au natural, on the half-shell. A bottle of French white wine is usually the best friend of such an order.
All good restaurants can advise on the kind of wine that is best suitable for the occasion. One such place is definitely the place called Huitres et Saumons de Passy  According to the Michelin guide   " Nestled in the 16th district of Paris, Huitres et Saumons de Passy offers a quick cooking of iodized products. In a nautical decor, the chef takes orders from the counter. With products that can not be more fresh – especially from Cap Ferret – Oysters and Salmon de Passy offers a menu cleaner.
The salmon tartar with fried onions, the sea bream ceviche or the hot oysters with champagne and ginger are a must. With its boutique Parisian boutique, the restaurant Huîtres and Saumon Passy – intimate and friendly – can accommodate up to 23 people. With only 1 oven and worktop, Chef Timothé Berthet works with the fish, shellfish and vegetables of yesteryear under the astonished gaze of the guests. In the heart of the capital, Oysters and Salmon de Passy also offers a takeaway service. Just a phone call to enjoy shellfish, crustaceans, caviar and seaweed on your couch ".