Coq-au-vin
Coq-au-vin. Rooster in wine is probably the most French thing to eat. According to raymondblanc.com  "Coq au vin is a quick and easy chicken recipe to cook at home for all the family. It embodies the true spirit of French cuisine – a delicious rustic dish that gathers everyone around the table to enjoy hearty food and a good glass of red wine. Legend traces this dish as far back as Julius Caesar. The classic version of the dish calls for red wine, specifically Burgundy, but different areas of France have their own versions; for example, coq au vin jaune (Jura), coq au Riesling (Alsace), and coq au Champagne."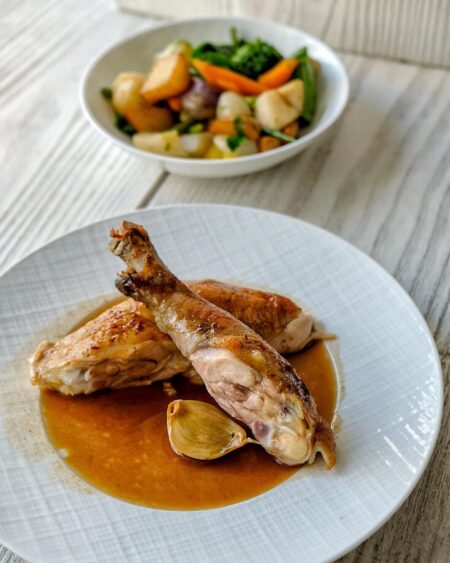 A safe choice for this one is a restaurant that specializes in birds and its specialty is of course the aforementioned favorite,  Le Coq Rico. The mentality of this place is probably the secret of its success. The owners of this place know their farmers, one by one. Chef Westermann visits every farm he works with at least twice a year.
They know all their farmers by name as their friends first and then partners. Over time, Chef Westermann and the farmers develop a true symbiosis that results in improving the breeds constantly. The Chef is also a slow-cooking addict.
He integrated the Baeckeoffe slow cooking method in his 3 Michelin Star cuisine. La Poulette Pattes Noires Entière Cuite comme un Baeckeoffe is one of his top five most-awarded dishes. Since then, Antoine Westermann has partnered with world-famous scientist Bruno Goussault to innovate the process of slow cooking. Slow cooking preserves the natural flavor and texture of ingredients unique to their terroir.