Beef Bourguignon
Beef Bourguignon. One of the perks of visiting Paris is that you get the chance to taste the whole range of French cuisine if you have the needed time. The beef stew known as Beef Bourguignon is in reality an international dish nowadays not just a Burgundian tradition. However, the Burgundian flavors, stem from the origin of the red wine sauce with mushrooms and small onions.
The typical ingredients include beef, broth, butter, bacon, pearl onions, garlic, tomato paste, parsley, thyme, and bay leaves, white (button) mushrooms, carrots, potatoes, salt, and pepper.
Many Beef Bourguignon recipes also call for using wheat flour as a thickener. The stew is usually accompanied by a generous amount of mashed potatoes and a glass or bottle of red wine. Also a standard of Parisian bistros and culinary celebrities such as Julia Child and Jamie Oliver.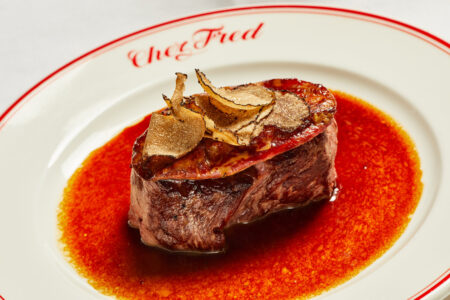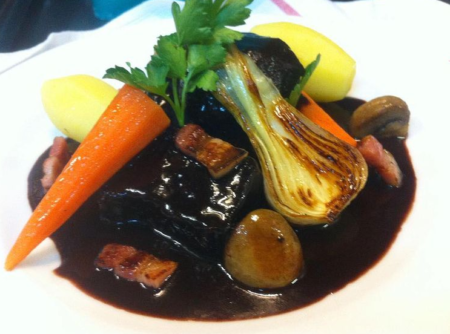 Chez Fred has gone through the ages. Under the leadership of Laurent Hullo, it is reborn today as a Parisian bistro in the glory of good, authentic and seasonal cuisine. The walls are post-war. From 1945. For three-quarters of a century, a Lyon stopper stood here. A table with folklore decor, shoulder-to-shoulder and good humor, and the fetish address of a certain Commissioner Maigret, tells Georges Simenon in the 1950s.
Whatever the trends, here the soul of the place breathes again. The decor has been refreshed, polished, and bricked, Laurent Hullo has modernized the style but kept the good manners of the past like the figures in the service. Chez Fred takes care of his world and makes people wait around the best wines of Burgundy and Bordeaux, thin slices of sausage from Maison Séguin, fresh radish, and good crunchy bread from the bakery of Au Coin de la Rue. But what is Chez Fred's kitchen?
It is a gastronomic, tasty, gourmet, convivial cuisine, based on the right product: that of the soil and of the season. Among his references, we can mention among others: Christophe Latour, an Agen producer of exceptional organic fruits and vegetables and Les Petites Fermes, a group of small local producers: the dairy farm of La Ferme de l'Etoile in Courgeon, farm pig from Perche, farm poultry from Fermes de la Belvindière, Game following the returns of hunting from Orne and Sarthe. Chez Fred also gives pride of place to bistro dishes: lentil salad, leek vinaigrette, celery remoulade, quenelles with Nantua sauce and simmered dishes: beef bourguignon and veal blanquette, so dear to Inspector Maigret …