Hotel Alfred Sommier (5 Star)
Hotel Alfred Sommier (5 Star). In 1859, Alfred Sommier's father acquired a large building plot on rue de l'Arcade, close to la Madeleine. He wished to settle there with his family, in a mansion matching with the prosperity of the family-run sugar business. At the time, the district of Madeleine was on going the Baron Haussmann's Parisian building developments.
The Sommier reached out to Joseph Lesoufaché, a renowned architect of the Second Empire. He designed two twin buildings made of cut stone with a courtyard and a garden at the back. Alfred settles himself on the 20 rue de l'Arcade. Descendants of the Sommier family still own the building and one of them transformed it into a hotel and now operates it.
Many elements of the original interior decor have been preserved in the rooms and suites and in Alfred Sommier's former office and salons. His monogram is wrought inside the staircases' iron railings. Two caryatids support one of the grand marble staircases.
The "hôtel particulier" of Alfred Sommier, a sugar industrialist, has just been restored into a luxury hotel by a descendant of the family. The soul of the family mansion has been preserved. Located at the center of Paris, this 80 rooms hotel, including 22 suites, offers antique meeting rooms, a restaurant, and a bar opened on a private garden, as well as a fitness room.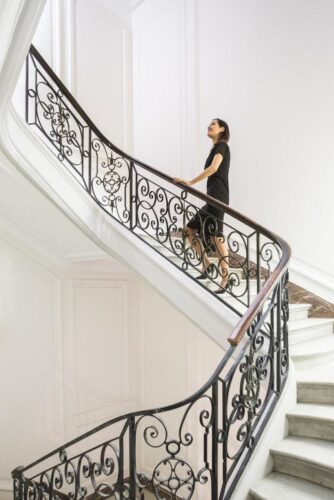 The Alfred Sommier hotel is located on a calm street, nearby la Madeleine, right at the center of the Paris business district, halfway on foot between the boutiques on rue du Faubourg Saint Honoré and the Printemps and the Galeries Lafayette department stores. Five metro lines, ten bus lines and two RER lines are less than 5 minutes walk from the hotel. The Garnier Opera, the Champs Elysées, and several theaters are within walking distance.
A series of spacious and bright reception rooms strikes when entering the hotel. A white and garnet-red marble checkerboard covers the floor and accentuates the perspective. Two majestic marble staircases stand at each extremity. In the reception hall, a huge canvas painted by Malel represents the castle of Vaux-le-Vicomte along with its park. Family souvenirs arouse curiosity.
A private garden offering either sun or shade is hidden at the heart of the mansion. You will be surprised by how peaceful it is. It is rare to find luxurious Parisian hotels that have such a unique garden where one can enjoy a meal, a drink or just relax while admiring the cut stone facades.
The garden terraces are overlooked by three 14 m high wall hangings. These photographic works of art, made by Nicolas d'Ursel and Fabien de Cugnac, represent oversized flowerbeds from which emerges the romantic portrait of Alfred Sommier as a young man. More