Camillas Hus Hotel (Boutique Hotel)
Camillas Hus Hotel (Boutique Hotel). This unique hotel is situated in the most exclusive part of Oslo adjacent to the Royal Palace gardens. Excellent possibilities for shopping and eating is found in this trendy neighborhood. Camillas Hus has seven beautiful and individually decorated rooms, with superior beds, large and comfortable bathrooms – all filled with classical furniture and fittings, blended with twentieth-century standards for comfort, elegance and safety. All rooms are equipped with a Tablet for personal use, L'Occitante bath products, safe and minibar.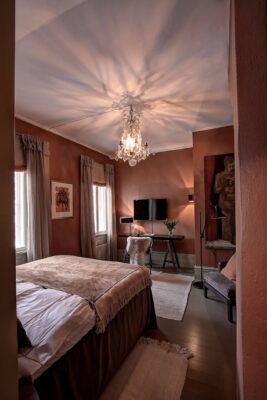 Camillas Hus, (Parkveien 31) was built as a private residence in 1845 and was part of the palace architect Linstow's plan for the surrounding areas when he designed the Royal Palace. One of the first tenants was the author Camilla Collet and her husband Professor Peter Jonas Collet. Camilla Collet was one of the most significant writers and women's right activist in Norway. Her most famous novel is Amtmannens Daughters. The Steen family has renovated and refurbished all the buildings in cooperation with the Cultural Heritage Management Office in Oslo, and interior designer Tine Ramstad.