Visit Tusenfryd park
Visit Tusenfryd park and Fredrikstad castle. Combine a visit to the largest amusement park of Norway, the TusenFryd (20 km south of Oslo) with a visit to the best-preserved fortress in the Nordic countries in Fredrikstad (90 km south of Oslo). TusenFryd amusement park boasts Scandinavia's most spectacular roller coaster, the Speedmonster with a speed of 0-90km in 2 seconds and the ThunderCoaster reaches 100 km and has been elected one of the best roller-coasters in Europe.
Especially entertaining if you have small children with you that can have fun in the Supersplash, the Waterpark, or the Children's area with its Frog Jump and all the other attractions specially designed for toddlers. In 2009 TusenFryd launched the SpinSpider, a spectacular ride, that looks like a gigantic spider, with a top speed of 115 km/h and a feeling of 4,5 G. This ride will give you an experience you never will forget.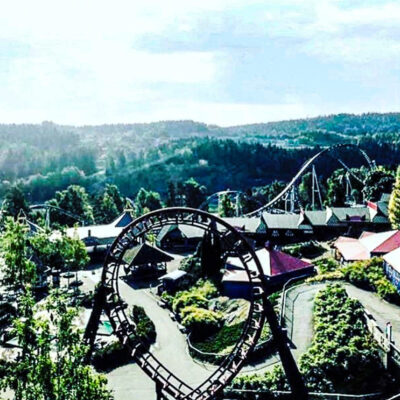 Fredrikstad has the best-preserved fortress town in the Nordic countries consisting of buildings from the 18th century, and a fortification with walls and moats from the 17th century. Fredrikstad Fortress was constructed according to Dutch architectural models, with wide water-filled moats and high earth ramparts.
On its eastern side, facing away from the river, there are three bastions and two counterscarps, ideal positions for cannons. Fredrikstad's historic Old Town is a dynamic part of the city. In addition to the historic buildings, you will find several small shops with designer goods, arts and crafts, furniture, food, and curiosities.
Fredrikstad City Museum with its historic city exhibition is also located here, and the flea market every Saturday on the town square is well worth a visit! The Old Town is also home to many galleries and a number of cozy restaurants and cafés. (Descriptions by visitnorway.com & visitoslo.com)