Visit Drøbak
Visit Drøbak.Drøbak is located along the eastern shores of the Oslo Fjord just 30 minutes from the center of Oslo and is known among the Norwegians as a scenic seaside Christmas town with spectacular sunsets. Here you can relax beside the blue waters of the Oslo Fjord in an outdoor restaurant or on a boat in the harbor.
Lift a glass towards the sun as it sets behind the forest-clad hills in the west. Experience the white sails, the smell of the salt water, and the gentle evening breeze. And maybe the chug of a fishing boat arriving with the day's catch of mackerel. Dream a little – as this is a typical Drøbak summer atmosphere.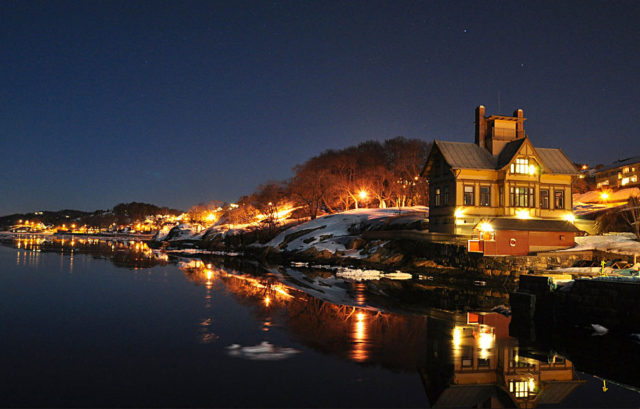 But, winter can also offer a special atmosphere with the frost smoke over the icy fjord waters, this time framed by the snow-covered landscape. Illuminated passenger ferries and cargo ships slide by, so close you feel you can reach out and touch them.
Beyond, the lighthouses and the floodlit Oscarsborg Fortress give a special atmosphere in the crisp winter darkness. This is the home of Santa Claus and his spirit hangs over the water, the forests, and the little town.
Over the years many famous Norwegian artists and writers have drawn inspiration from Drøbak during visits to the area.  The many old wooden houses together with the shops, galleries, cafes, and restaurants make the old town of Drøbak unique and worth a visit. 200 years ago Drøbak was an important exporter of ice and timber which made the business flourish and prosperous merchants laid the foundation for the city as we know it today.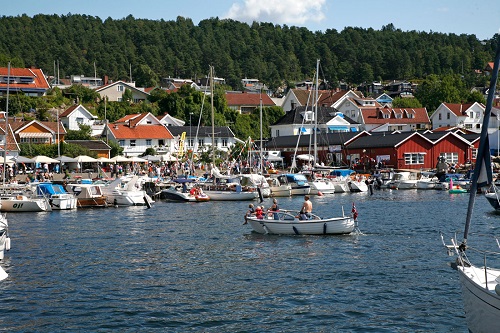 In Drøbak you will find Tregaardens Julehus, Norway's first Christmas House open all year, and Santa's post office. Over 20,000 letters is received every year from children worldwide. Many of these can see if you visit the Tourist Information in Drøbak.
Only five to ten minutes by ferry from Drøbak you will find Oscarsborg Fortress, situated right in the middle of the Oslo Fjord. Oscarsborg Fortress is known to most Norwegians as the fortification that sank the German cruiser Blücher during the Second World War.
Today Oscarsborg is open to the public and in addition to the museum and the original fortifications, there are several restaurants and hotels there today. Every year there is an annual opera festival in August. More