Take the train to Bergen.
Take the train to Bergen. The train ride between the two cities is among the most exciting & scenic routes worldwide. No other train ride between two cities in Europe is at a higher altitude than the one between Oslo and Bergen. Linking Norway's two main cities, this line takes in some dazzling scenery, with the most spectacular stretch being the one over the Hardangervidda, Europe's highest mountainous plateau. Finse, at 1,222 meters above sea level, is the highest point on the line.
The Bergen Railway is popular with tourists and commuters alike and serves a number of ski resorts along the way, so it is just as busy in winter as it is in summer. The total travel time between Oslo and Bergen is approximately seven hours. Building work, which started in 1875, took 34 years to complete and involved a workforce of some 15,000 men.
The 182 tunnels were carved by hand. The Bergen Railway celebrated its centenary in 2009. If you have extra time, take the side trip on the Flåm Railway when you arrive in Myrdal. This will take you down to the village of Flåm, in the innermost corner of the Aurlandfjord. The Aurlandsfjord is an arm of the mighty Sognefjord, Norway's longest fjord.
A must for any rail enthusiast, the Flåm Railway, one of the world's steepest railways on normal gauge, is one of Norway's most popular attractions, and a masterpiece of Norwegian engineering. In their March 2014 issue, Lonely Planet Traveller included the Flåm Railway in a list of  The World's most incredible train journeys in 2014 and named it The world's best train ride.
500,000 passengers travel every year on this line that goes through spectacular scenery as it advances along steep mountainsides and deep ravines, passing countless waterfalls on its way down to the fjord. Remember that it is dangerous to lean out of the window, and watch out for the many tunnels – 20 of them along the 20-kilometer-long line.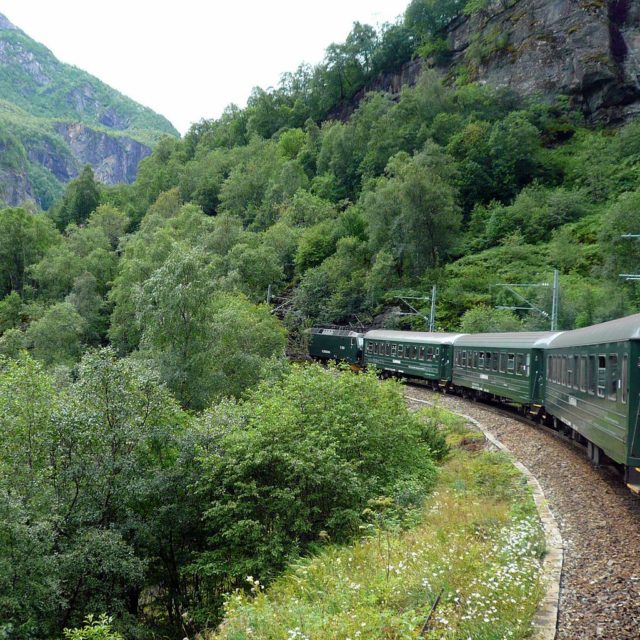 The trip between the two stations takes about one hour. A trip on the Bergen Railway is just as stunning in winter as in summer. Indeed you should try both if you get the chance, as the landscape changes so dramatically with each season it makes for a radically different experience.
If you are traveling in winter remember that days are short this time of year, so try to travel during daylight hours (typically between 9:00 am and 4:00 pm). Earlier or later than that, part of your journey will be dark, which means you may miss out on the magnificent scenery along the way. The ideal time to travel in winter is late February/March. More