Pump up your adrenaline at Korketrekkeren
Pump up your adrenaline at Korketrekkeren. Korketrekkeren  or the "corkscrew" is a publicly owned toboggan slide and is free of charge, so all visitors need to do is rent a sled and throw caution to the wind. Starting at Frognerseteren metro station, Oslo's most popular toboggan run, Korketrekkeren, is 2000 meters long with a drop of 255 meters over the course of the track.
Once you have wound your way around Korketrekkeren's snow-lined twists and turns all the way to the bottom, you can take the metro back up the hill and do it all over again. It takes 8-10 minutes to reach the bottom of Korketrekkeren so the 13-minute ride back up to the beginning is worth the trip.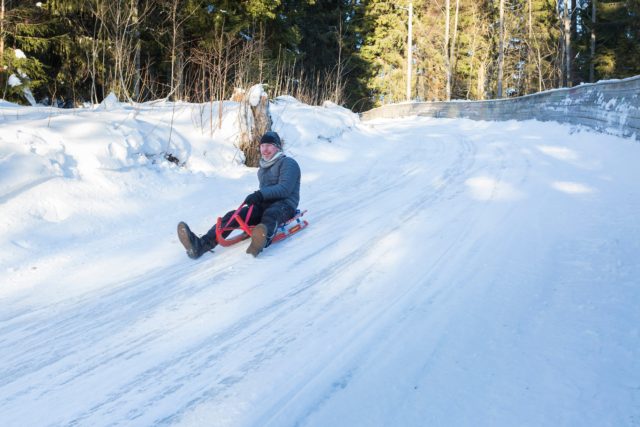 Korketrekkeren was built for the 1952 Olympic Games as Norway's first bobsleigh track. Surprisingly this winter sport was never popular in this country before the Winter Olympics were awarded to Norway.
Nowadays the tracks are packed with people re-living the achievements of those athletes, with a spirit of fun and adventure. Sled rental costs NOK 80-100 per day. Helmet rental is free. The last chance to rent a sled is one hour before closing time. The rental office is located at the bottom of the hill going down from the Frognerseteren metro stop, next to Frognerseteren Restaurant.