Palazzo Caracciolo Napoli (4 Star)
Palazzo Caracciolo Napoli (4 Star). The Caracciolo family from Naples was one of the most important noble families in Italy's history. The earliest records date to before the year 1000, and over the centuries many members of the family have taken their place in history. One of the more well-known members was Galeazzo Caracciolo, an admiral in the Christian fleet that liberated the city of Otranto from the Ottoman siege of Sultan Mohamed II in 1481.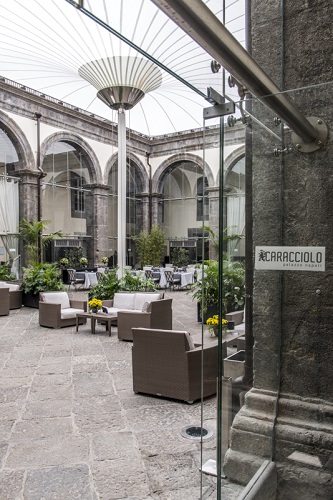 The current structure of Palazzo Caracciolo was built in 1584, where a castle had been donated by Robert of Anjou to Landolfo Caracciolo, with some of the remains still visible. It is an imposing and majestic building, with a severe façade that conceals a beautiful cloister, which is currently covered by an original impluvium and a pretty garden.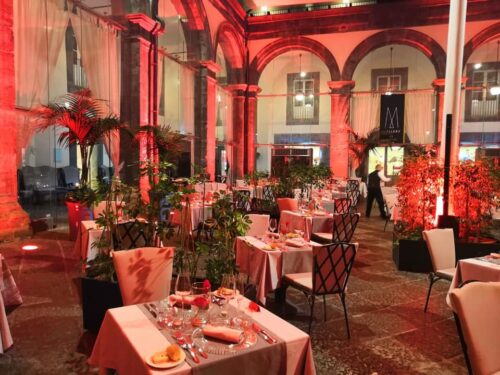 The Palazzo Caracciolo complex houses 138 rooms, where history combines with modern hospitality requirements. The rooms are naturally sound-proofed by the substantial old walls and are fresh during the summer and comfortable in winter. Moderation and sophistication, design and comfort harmoniously blend the classical style and history of the location.
Spacious and elegant, with every modern comfort, fitted with queen and king-sized beds. Some of the rooms look out over a spacious balcony. Also available in duplex rooms. Spacious and elegant. Each one is characterized by its specific identity. Ideal for guests with a stand-out personality, which is expressed in the shapes, sizes, and usual attention to detail.
There are also comfortable duplexes available in the Junior Suites. Located in the heart of the Palazzo, the exclusive Suites represent the true spirit of the building. Sumptuous, elegant, and refined with luxurious details and sophisticated architecture, they are finished with beautiful coffered ceilings and boast a surface area of 70 m2. More