Metro 900 Hotel (Boutique)
Metro 900 Hotel (Boutique Hotel). There are many aspects that make a holiday unique and different from the others: one of these, is certainly to stay in an environment that welcomes you with courtesy, taste, and professionalism, leaving nothing to chance. This is what Metro 900 does, a Boutique Hotel where you can immerse yourself in an enveloping and relaxing atmosphere in an elegant setting, where every detail communicates beauty.
Set in a truly unique atmosphere – surrounded by design furnishings, fine lines, and handicrafts products, you can spend special moments in which every need will be considered with care and discretion by our qualified staff, in order to give shape to a wonderful experience in discovering Naples and surroundings.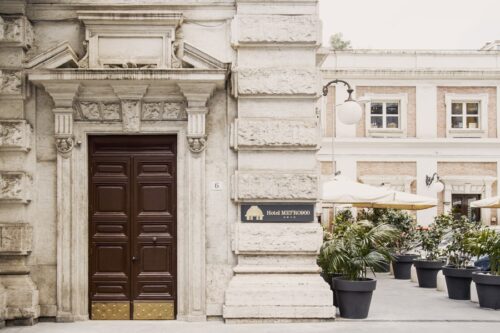 Located in the Chiaia district, Metro 900 covers the wing of one of the most prestigious buildings of Neapolitan architectural culture, inside which there is also the historic Mergellina station, a hub to reach the main landmarks of the city.
Just a few stops and you will find yourself in the very heart of the historic center of Naples: rich in buildings and artworks of great value renowned all over the world: from the majestic Piazza del Plebiscito to the Royal Palace, from the imposing Maschio Angioino to the Archaeological Museum, passing through the evocative alleys like Spaccanapoli and San Gregorio Armeno, home of the master cribs.
How to resist the call of the sea! The hotel's location will allow you to walk to the nearest and famous Caracciolo seafront, dominated by the Castel dell'Ovo, and to the Port of Mergellina, from which you can reach the pearls of the Gulf of Naples as Ischia, Procida, and Capri, the Pontine islands and the Aeolian islands. More