La Dolce Vita is minutes away.
There is no better region in Italy for you to grasp the meaning of the famous Italian life philosophy of La Dolce Vita than the area that unfolds a few minutes outside of Naples. The coast and little town of Sorrento, the glamorous coast of Amalfi, and the world-famous Positano all lie a few minutes south of the city of Naples. The capital of Campania shares the gulf with Sorrento which lies on the south side of the Bay of Naples, right before the tip of the Sorrentine Peninsula. From Sorrento's Marina Piccola, the tourist boats come and go to Capri (20 minutes), Naples (30 minutes), the Amalfi coast, and the islands of Ischia and Procida. Dozens of beaches, stunning scenery, and unmatched Italian charm have made this small part of the world that starts with Sorrento and extends to Positano, Praino, Amalfi, and Atrani and reaches Salerno, into one of the most cherished coasts of the Mediterranean.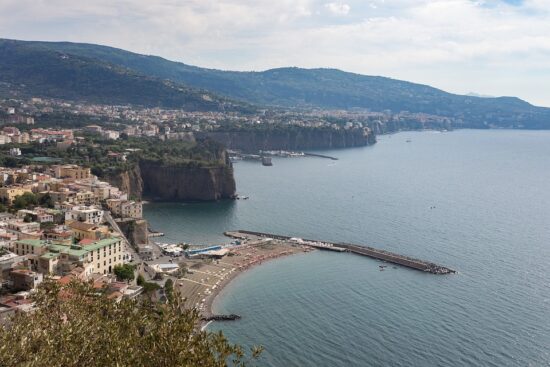 This Hollywood blockbuster region has been glorified and very rightfully so by Italian and American directors and movie stars, with the romantic backdrop playing a major role in their films. Just think of The Talented Mr. Ripley,  Il Postino, Under the Tuscan Sun, or the classic Beat the Devil, with Humphrey Bogart and Gina Lollobrigida. So where do you start? Well, it depends on your time and finances. If you want to squeeze everything in one go then you cannot include the islands. There's simply too much to see and do to fit in one day and night.
If you do leave the islands out then you can do the whole coast in one day and maybe take the boat from Sorrento to Amalfi so that you see the coast from the sea. Or not. You could even rent a Vespa if you know how to ride a scooter, which is equally glamorous in this heavenly place. We will not get into a detailed description of all the places and towns on the coast. We would need a separate section dedicated to the coast to cover everything. Just take your camera with you. It's ok to cry when you head back. Just tell yourself you'll be back soon. It will be hard not to.