Obatzda
Obatzda. A Beer garden classic that escapes the meat monopoly of traditional Munich food is the cheese delicacy of Obatzda. Its ingredients are camembert cheese, cream cheese, caraway seeds, cloves, onions, butter, paprika, salt & pepper with a small amount of beer.
The raw materials are mixed together until a smooth creamy mash is formed. The reddish -depending on the amount of paprika- mix is either served as a side dish garnished with white & green onions or spread on a cut-in-half pretzel or slice of rye or wholemeal bread, accompanied by radishes.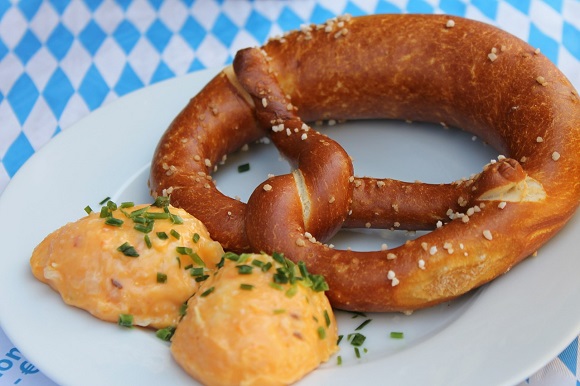 For this one you could try the Grünwalder Einkehr is a traditional restaurant that has been located near Bavaria Filmstadt since 1904. A few years ago the premises were rebuilt and refurbished. In 2018, Arabella Schörghuber not only brought a breath of fresh air but also the skill to combine the tried and tested with the modern.
The location on the beautiful Isar high bank offers business people, walkers, and cyclists a welcome opportunity to stop off. Depending on the weather, indoors or in the garden. Enjoy intimate togetherness or meet up with family, friends, and business partners to celebrate, enjoy and chat. Crispy roast pork and a cold Paulaner beer in a cozy atmosphere – a visit to the Grünwalder Einkehr is always worthwhile.