Bavarian sweets
Bavarian sweets. No menu can be complete without a list of desserts & Munich has its fair share of sweet delicacies. First of all Bavarian doughnuts, that being Auszogne, Funkenküchle or Kirchweihnude are delicious yeast dough pastries that are fried and then sprinkled with cinnamon-sugar mixture served hot & cold & often eaten with marmalade. Bayerische Creme or (Bavarian Cream) is fine, whipped egg crème with vanilla, bound with gelatine, and mixed with a good portion of whipped cream.
Following gelling; the mass is then emptied out of its form. In the past, Bavarian crème was gelled in special high, sculpted cup forms; nowadays it is mostly served in individual glass bowls garnished with fruit or chocolate.
Apfelstrudel (Apple Strudel) is a specialty of Austria and Bavaria (Bayern) and it is known worldwide. Its filling is made from chopped apples, cinnamon, raisins, and roasted bread crumbs. Other ingredients could include nuts (such as almonds or walnuts) and rum, depending on the recipe.
The filling is spread out over the Strudel dough, which is then rolled up into a log. It is baked in an oven until golden brown and the ends become crispy. The Apple Strudel is best served warm, and fresh from the oven. It is usually eaten with vanilla ice cream, whipped cream, or vanilla sauce. Prinzregententorte is a Bavarian cake, which consists of at least six, mostly seven, remarkably thin layers of sponge cake inter-laid with chocolate buttercream and a topping of apricot jam upon the very last.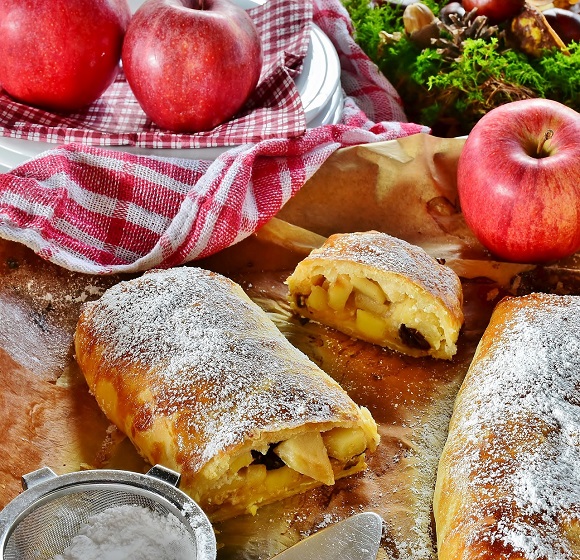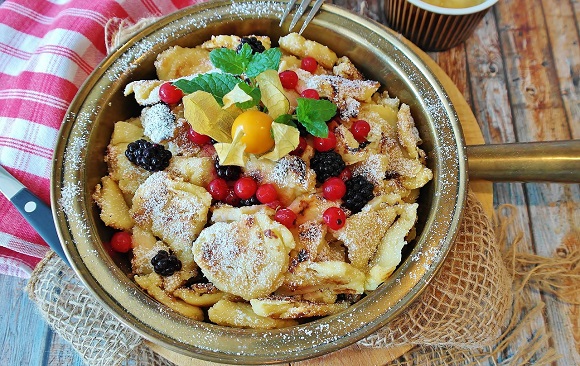 The exterior is covered in a dark chocolate glaze. The Prinzregententorte is very popular in Bavaria, available in cake shops all year round. Dampfnudel is a sort of white bread roll or sweet roll served as a dessert with vanilla custard, jam, or boiled fruit that can also be served as a main dish with savory accompaniments such as cabbage, salad, gherkins, potato soup, lentil soup, or mushrooms in white sauce.
Kaiserschmarren (Sweet Pancakes with raisins, rum, and almonds) is a sweet pancake and is one of the best-known warm desserts in Bavaria and Austria. It is traditionally served warm after dinner. Cooked fruit, such as apple sauce, cooked apples, or plum sauce, often accompanies the dish. Zwetschgenkuchen cake from Augsburg, the Nürnberger Lebkuchen, a traditional gingerbread of Nuremberg & the Rothenburger Schneeballen (snowball cake) from the wider Bavarian province completes the tempting puzzle of forbidden for many of us sugary concoctions.