Get lost in the Englischer Garten
Get lost in the Englischer Garten. The Englischer Garten (English garden) is more than twice the size of New York's Central Park & London's Hyde Park. The 3.7 sq km (1.4 sq mi) (370 ha or 910 acres) urban park was created in 1789 when Elector Carl Theodor ordered that a public park be established along the Isar River. He put the project in the hands of the Briton Benjamin Thompson, who worked at the time for the Bavarian Army. The park was given the name Englischer Garten because it was laid out in the style of an English country park.
Today the Englischer Garten offers numerous recreational activities. Cyclists and joggers train on the 78-km-long (48.5 miles) network of paths, and amateur soccer players meet on its fields for games and practice.  A beautiful vista of the city is offered by the small hilltop Greek-style acropolis known as Monopteros, which was added to the park landscape along with the hill in 1836. The Japanese tea house first opened in 1972 on the southern end of the park on an artificial island in the Schwabinger Bach (stream). Japanese tea ceremonies are performed here regularly.
You'll probably be amazed to know that Munich is the river surfing capital of the world. It was here in the Middle of the English Garden this unusual sport was born. Just past a bridge of the Eisbach 2km long man-made river that flows through the park, near the Haus der Kunst art museum, a water pumping mechanism forms a 1-meter high standing wave as it pushes the water over a slab of concrete, that has been the focal point of the city's river surfers from 1972. Kleinhesseloher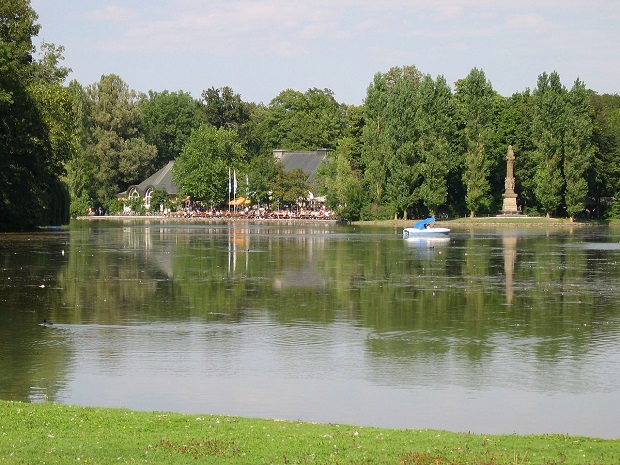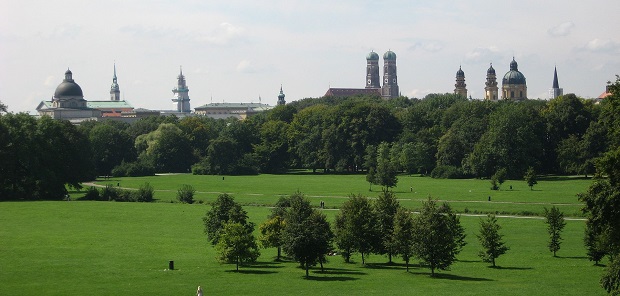 See the 86,410 square meters lake fed by the water from the Eisbach is a well-loved leisure destination where you can rent a lazy pedal boat if the weather permits it or have lunch in its coastal restaurant with outdoor dining overlooking the lake. On a warm summer day, it's very possible to see people sunbathing without any clothes since it is absolutely legal to do that in the English Garden.
With 7,000 spots, the beer garden in the Englische Garten, right by the Chinese Tower, is Munich's second largest. This distinctive Chinese pagoda is 25 meters (approx. 75 feet) high and is based on a design from 1789. The tower has burned down several times over the years, but each time it has been rebuilt true to the design of the original.
Another beer garden is located on Kleinhesseloher Lake. From the first ray of sunshine, all benches are quickly taken. The associated Restaurant Seehaus is open year-round and offers sophisticated local fare. Behind the Seehaus is the start of the northern part of the park, which is beyond the Mittleren Ring.
The area is much quieter than the lively southern section. The Englische Garten also borders directly on the Isar River here, which can be easily crossed via the weir at Oberföhring. On the northern end of the park is Restaurant Aumeister, which also hosts a beer garden. Description by www.muenchen.de