Wurscht
Wurscht. Luxembourg's cuisine couldn't be unaffected by the millennium-long intermingling with the German culinary tradition. Its most obvious influence is in the wide variety of sausages in the Luxembourgian palate. Starting with Träipen which is the Luxembourg variant of black pudding prepared from a hog's head (or other scraps of pork), fat, rind, and blood that may also include green cabbage, onions, honey and caraway.
Mettwurscht, is a typical German sausage made from raw, minced pork preserved by curing & smoking while Lëtzebuerger Grillwurscht or Grillinger formerly called Thüringen (a name now only used for sausages from the German state of Thuringia) is an inexpensive small sausage that tastes like a spicy version of the German Bratwurst & is often sold by street vendors & roadside stands. Finally, there is the Weinzossis which is a light wine sausage usually accompanied by mashed potatoes & mustard cream sauce.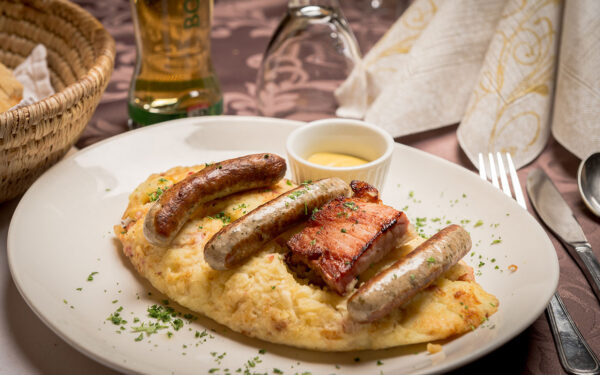 Located in the beautiful and historic Grund district of Luxembourg City, Bosso Restaurant Brasserie is a place with a welcoming atmosphere and a wide variety of delicious wurscht. Being a family business with a long tradition, many ideas and dishes have been passed down from generation to generation. Its owners are believers in a fresh homemade kitchen that encompasses everything from the finest ingredients to the most passionate team to give their guests an authentic, memorable experience at Bosso.