Judd mat Gaardebounen
Judd mat Gaardebounen or Smoked Collar of Pork with Broad Beans is one of the most widely recognized national dishes of the Grand Duchy of Luxembourg. It is associated with the village of Gostingen in the southeast of the country where the inhabitants have earned the nickname of Bounepatscherten as a result of their excellent broad beans. After being soaked in water overnight, the pork collar is boiled and skimmed, then allowed to simmer with leeks, carrots, celery and cloves for about two hours. A bouquet garni should be included, together with a glass of Moselle wine.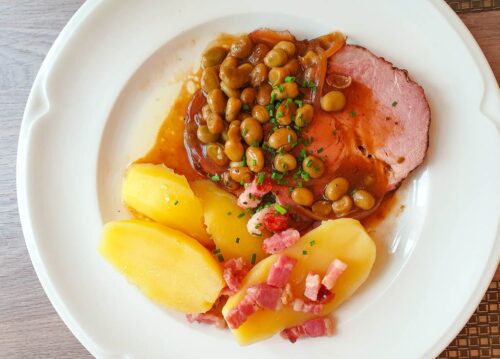 For the beans, blanched in water for 5 minutes, a sauce is prepared. Chopped onion, bacon cubes and flour are browned in butter in a saucepan, meat stock is stirred in and the sauce, which should be fairly liquid, is left to simmer for some 20 minutes. The blanched beans are added to the sauce together with finely ground fresh savoury, pepper and salt. When the pork is ready, it is removed from the broth, sliced and arranged on a large plate with the beans. The dish can be served with boiled potatoes and either wine or beer.Aside from this dish & sausages based on this meat, pork is generally very popular in Luxembourg, served in the form of ham, especially Eisleker Ham which is smoke cured & served slim-sliced on bread or Ham, fritten an Zalod (ham,chips & lettuce).
One of the top picks when it comes to local cuisine according to a great many reviews on TripAdvisor is Um Dierfgen at 6 Cote d'Eich.
Um Dierfgen is a very traditional restaurant with a strong link to regional origin. All foods and dishes are carefully picked by owner Marc Berg, who always insists on seasonal and regional ingredients. With his high demand for excellent quality and the preparation of native Luxembourgish dishes, the restaurant became more and more famous. A daily dose of good humor and an extra bit of heart-warming charm helps Marc Berg to manage the restaurant in detail. Thus the Luxembourgians loves his great concept and the food he serves.