Bouneschlupp
Bouneschlupp or Bounen is a soup that is also considered a national dish. Its base is a green bean soup enriched with potatoes, onions, bacon or even plain German-style sausages. The fat drawn from the cooked bacon and/or sausages is used for the carrots & shallot to be cooked gently along with some garlic. A generous amount of fresh green beans cut into bite-sized pieces are added to the mixture before it is covered with water and is left to simmer.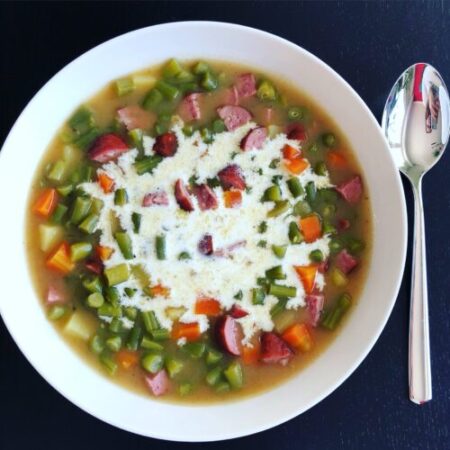 Diced potatoes, salt, and pepper are added to the simmering pot and after 40 minutes the sausages are buried in the soup. Just before serving sour cream is added in order to thicken the soup which is served sprinkled with chives & pieces of the sliced sausage or bacon on top. It is often accompanied by the omnipresent gromperekichelcher. Other popular soups are gromperenzopp a potato soup with leeks, egg yolks & cream, and Öennenzop , an onion soup, usually served with cheese toast.
Am Tiirmschen on Rue de l'Eau 32 is a wise choice for a taste of this traditional dish. The restaurant is hidden inside the Gastronomic Island of the Fëschmaart in Luxembourg Ville, in a medieval building carefully renovated to keep the old charm.