Scotch Egg
Scotch Egg. Despite its name, the Scotch egg has no proven relationship with Scotland. Instead, according to luxury food emporium Fortnum & Mason, the Scotch egg was invented at its Piccadilly headquarters in 1738 for its most affluent customers and their long carriage rides.
Piccadilly at that time was full of coaching inns, from where many landowners would start the journey for their country estates and this was one of the portable snacks that along with the pork pies accompanied the traveling customers.
Of course, the company could simply popularise an older product. Be that as it may, the treat itself is nowadays considered a British culinary tradition. It is comprised of a hard-boiled egg wrapped in sausage & covered in breadcrumbs which are then deep-fried until they become crisp.
After a slight fall into disrepute during the 1990's the Victorian champion of English picnics has bounced in popularity and is now a standard component of gastro-pub menus, usually accompanied by a leafy salad, some steamed vegetables & mustard or any other sauce of your liking.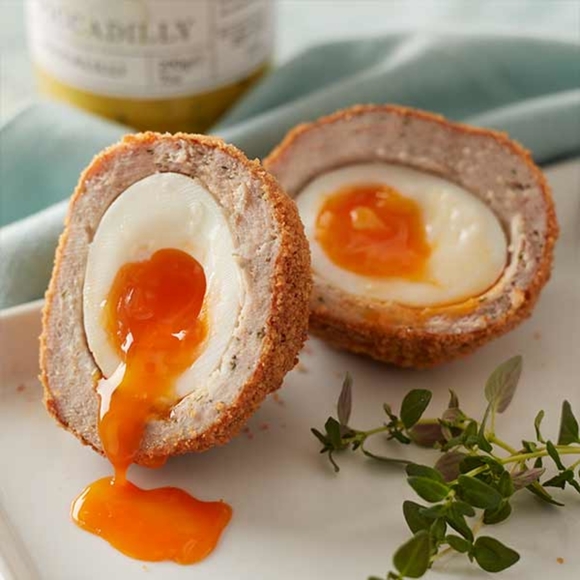 It's only natural to pair this English delicacy with the place that actually invented it. The only puzzle is which place to choose from the long list of Fortnum & Mason shops, restaurants, bars and Tea Salons that are scattered around London. We'll leave this up to you.