Trafalgar Square
Recommencing our Queen's Walk northwards towards Hungerford Bridge and Golden Jubilee Bridges, the 2002 footbridges dedicated to the fiftieth anniversary of Queen Elizabeth II's accession to the throne that run parallel to Hungerford Railway Bridge we pass on the north side of the river again, where the enormous Charing Cross Railway Station stands today. Bypassing the Station from its left side we come across one of the most scenic roads of London. Northumberland Avenue is lined with Victorian buildings housing a number of British government departments, while others have been transformed into luxury hotels such as the triangular-shaped Corinthia Hotel.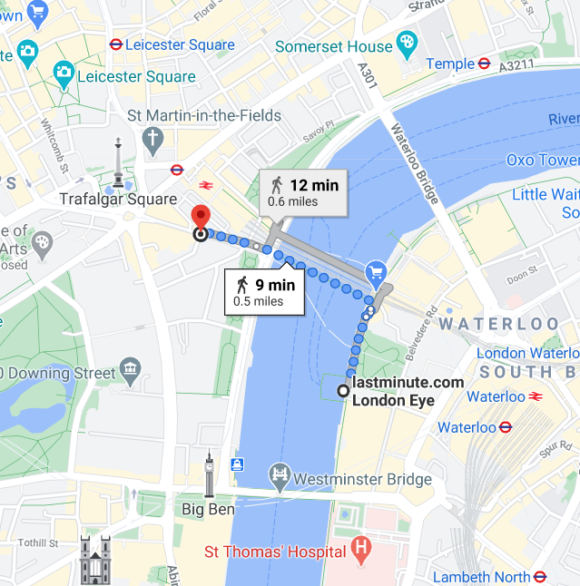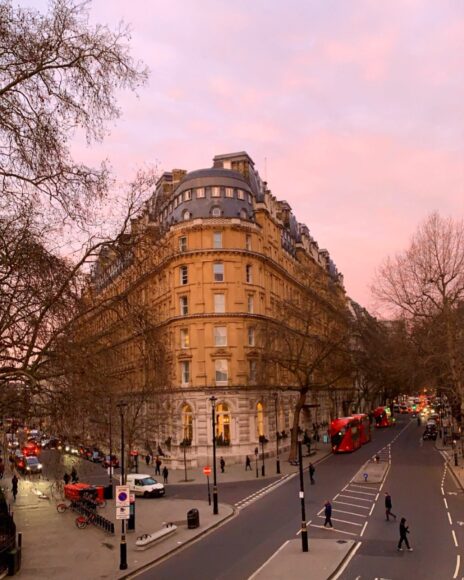 Northumberland Avenue ends up at Charing Cross, the roundabout that took its name from the demolished Eleanor Cross that stood on the site, (Eleanor Cross was a series of lavishly decorated stone monuments topped with tall crosses erected by King Edward I between 1291 & 1294 in memory of his wife Eleanor of Castille in a series of English cities).
The original cross stood on the south side of Trafalgar Square, the famous Square adjacent to the roundabout, regarded as the official center point of London in legislation and when measuring distances from London. The monument was destroyed on the orders of Parliament in 1647 during the Second Civil War, and was replaced by an equestrian statue of Charles I in 1675 following the Restoration. A replacement cross was erected in 1865 in front of Charing Cross railway station a few hundred yards to the east. The famous Trafalgar Square is exactly as one could imagine the core center of the British Capital would be like. The heart of London started to take its current form after 1826 & it was opened to the public in 1844. The square is dominated by the 51.6 meters (169 feet) high Corinthian column dedicated to Admiral Horatio Nelson who died at the Naval Battle of Trafalgar, between the Royal Navy & the combined fleets of the French & Spanish Navies in 1805.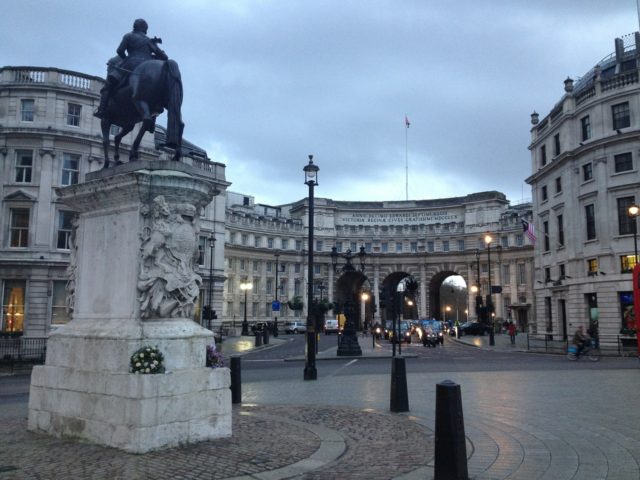 The column is flanked by four identical bronze lions in a design probably influenced by Marschalko János's lions of the Chain Bridge in Budapest  that were installed 6 years before the Trafalgar Square lions were commissioned. The two rose-shaped fountains decorated with sculptures of dolphins, mermaids & small sharks and the three plinths with the statue of George IV (on the eastern side), of General Charles James Napier  (on the south-west) & Major-General Sir Henry Havelock (on the south-east corner) complete the sculptural array of the Grand Plaza.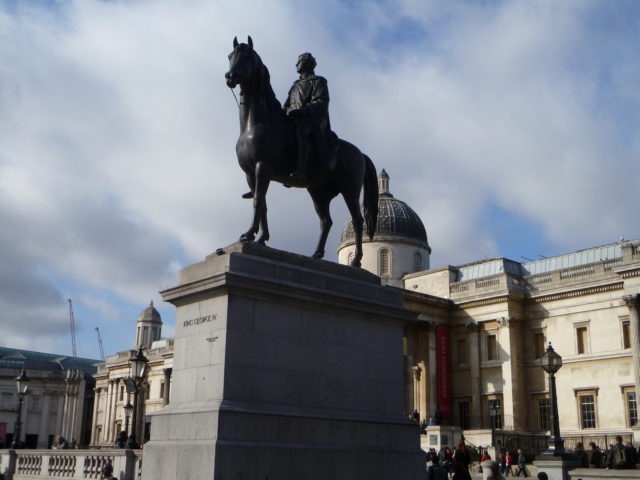 To the northwest there is a fourth plinth which was originally intended to hold an equestrian statue of William IV but remained bare due to insufficient funds for more than 150 years. After 1998 the Fourth Plinth, has been a centrepiece for some of the world's most provocative contemporary public art e.g The Gift Horse by Hans Haacke in 2015 and  David Shrigley's 'Really Good' sculpture of a giant hand in a thumbs-up gesture in 2016