A Paródia – Cocktail & Wine Bar (Cocktails)
A Paródia – Cocktail & Wine Bar (Cocktails). Located in the Campo de Ourique district, officially open since 1974, A Paródia is one of Lisbon's best secrets, with a lot of history and stories to tell. At the end of 1973, Luis Pinto Coelho, collector and interior architect, began to receive friends, informally and after hours, in his antique shop, which later became the bar's first room. It is here that many meetings and gatherings were held, in favor of the revolution of the 25th of April. At that time, this space was known as the "PIDE bar", because elements of the police also came here secretly conspiring against the regime.
Luís Pinto Coelho officially opened this first room, as a bar, two days after the revolution, on April 27, 1974, with the name A Paródia, in honor of Rafael Bordalo Pinheiro's satirical magazine from the beginning of the 20th century, of which several copies of covers can be found scattered on the walls of the space.
In 1976, the Bar expanded with the opening of the second room, in the space of the adjoining building, where until then there had been a grocery store named "O Pomar do Patrocínio". In the hottest post-revolution years, the two rooms were naturally divided, one for the left and one for the right. At the end of 1976, Luis Pinto Coelho sells the Bar to one of his former bartenders, affectionately known by regular customers as Tio Albino.
It was in this space that he remained until his age tired him out, not without selling the Bar in 1998 to one of his most loyal customers, José Mariano Lapa Batista, who felt A Paródia as an extension of his home and didn't want it in to disappear, therefore deciding to acquire it. His son Pedro Batista is then called to manage the Bar, where he ends up meeting his future wife and current host Filipa Carlos.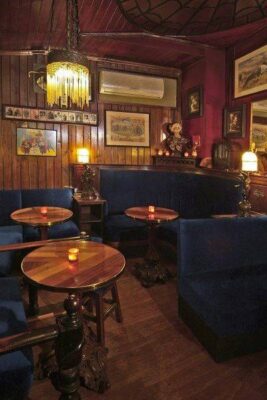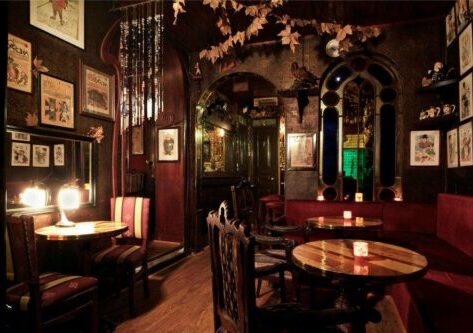 Over the years, many artists, politicians, journalists and writers have passed through this house, including José Cardoso Pires, who refers to the Bar in his work "Livro de Bordo" as a "modest chapel, entirely dedicated to the memory of Bordalo, east of Campo de Ourique – The Paródia". Paródia was then one of the first bars in Lisbon, designed and decorated by Luís Pinto Coelho.
It is important to note that all of its iconic bars have marked and continue to mark Lisbon's nights, due to their difference and singularity – Procópio, A Paródia, Foxtrot, and Chinese Pavilion. A space with original decoration from the founding date, where wood and colors warm the entire space, A Paródia is a belle époque window of antique furniture, art nouveau, and art deco, with lamps providing lighting as well.
The walls of the bar, covering the covers of Revista A Paródia, drawings, and caricatures by Bordalo Pinheiro and other creators, photographs, and various art objects, include some walls covered with matchboxes, a fantastic collection of small boxes where some customers used to keep coins and other memories that are now like miniature time capsules. This tradition carries over to the present day, with customers being invited to choose a box of matches for themselves and keep secrets there for future generations to discover.
Paródia is thus a bar with a lot of history, which bets on keeping old faithful and adding new ones. A space with a soul the size of the world, where, since 1974, Portuguese and citizens from across borders have come together, giving the Bar their loyalty and spreading the word about the beauty and univocity of the space, professional and attentive service, comfort and intimacy provided to those who visit.
This reality is well reflected in several tourist guides and online review sites. A bar for generations, a heritage passed down from grandparents to parents and from parents to children, recognized as a Store with History, by the Lisbon City Council, for its value in terms of material, historical and cultural heritage, since 30 September 2020.
Perhaps the most intimate bar in Lisbon, a cozy space that invites you to spend long hours of good conversation, in the company of one of the many cocktails, drinks and other delicious proposals not to be missed. Bar A Paródia, is unique and singular, is always ready to welcome everyone who visits it for good. Just ring the bell! More