Żurek
Żurek is a popular soup made from fermented rye flour, potatoes (boiled and mashed), hard-boiled eggs, celery & Kielbasa which is a type of Polish sausage also worth trying if you are a meat eater. Most times the soup is served in an edible bowl made of bread & is traditionally eaten on Easter. The love for this soup is such that you can even find it ready-made in bottles in various grocery stores and food markets. We don't really recommend that.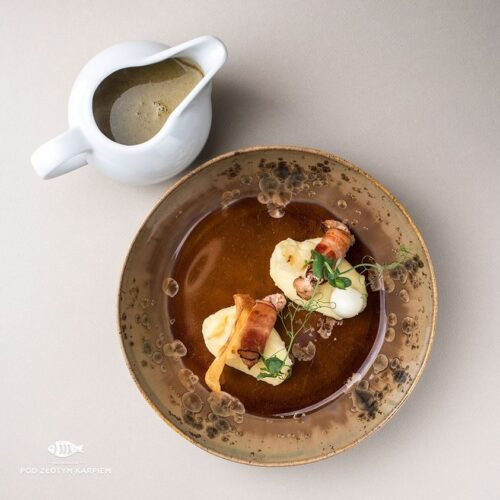 What's the point if you haven't ever tried it to buy a pre-cooked one? Just look at the pictures from Pod Złotym Karpiem Restaurant at Rynek Główny 10. Does that seem like something you'd like to buy in a bottle? No offense. Pod Złotym Karpiem is the Polish restaurant you need to visit not just for its amazing traditional soup.
They are using regional products for their food menu, from suppliers they know personally, a thing that's always a good guarantee for quality. They offer beer from the Benedictine Abbey in Tyniec  (a historic village that is now part of the city of Krakow) and Polish wines from the Saint Vincent vineyard of the Lubusz region. In a few words, the restaurant is as Polish as you want it to be but not in a folklore kind of way which can be a bummer.