Bigos
Bigos. Αlso known as the hunter's stew, bigos is a traditional meat & cabbage stew, that besides Poland can be also found in Ukrainian, Lithuanian & Belarusian cuisine. Confusion or big mess which is the meaning of the word bigos in Polish was supposedly introduced in Poland by a Lithuanian Grand Duke who became King of Poland in 1385.
It is a dish that contains various cuts of meat such as pork, bacon, beef & veal, white cabbage, or sauerkraut and is usually served with mashed tomatoes and mushrooms. It can not just as easily be a stew of game meat such as venison or rabbit & is typically seasoned with pepper, berries, marjoram & myrtle. This popular Polish dish is customary to be served on the second day of Christmas.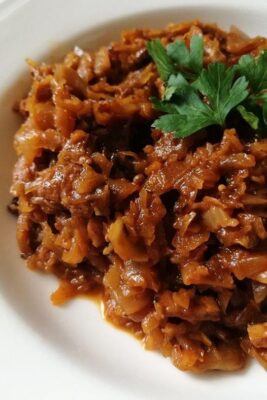 One of the best places in Krakow to try this dish is definitely the Starka Restaurant at ul. Jozefa – Kazimierz. Recipes passed on by generations of traditional cooks and housewives (well that was the norm back in the old days). Warm and homey atmosphere, efficient service and great location (not too far from the lively Plac Nowy). Live music every Wednesday and Friday. Be sure to book beforehand. The place is super-busy (for all the good reasons). Oh they also produce their own delicious cranberry and ginger vodka which is kind of awesome too. Just try them.