Watch an opera at Juliusz Słowacki Theatre
Watch an opera at Juliusz Słowacki Theatre. The Poles are obsessed with classical music and the Opera. It's a deep-rooted tradition especially during the winter feasts, Christmas & New Year's days to attend an Opera or a musical play as a family all dressed up and festive. The best way to experience this treasured Polish tradition in Krakow is probably by attending a show at the Juliusz Słowacki Theatre one of the most beautiful theatres in Europe.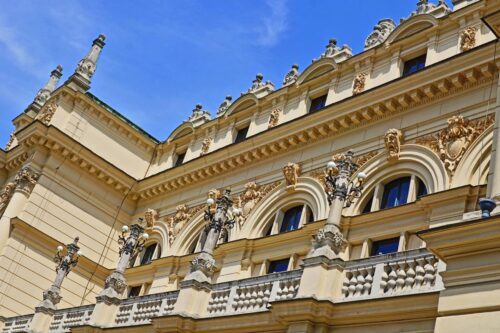 When the building was erected in 1891 it replaced the demolished church and monastery of the Holy Spirit, a development that enraged the city's conservationists and historians of the time. What was the most important architectural addition of the 19th century in Krakow was built in an eclectic style with the leading manner being the neo-baroque, very much reminiscent of iconic buildings like the Palais Garnier in Paris and the Belvedere in Vienna.
Attending a musical play in this architectural jewel can be an unforgettable treat of an experience that will bewitch you. Its elaborate interiors & frescoes will work just as a supportive "side-dish" with the lead actor being one of the high-quality plays that range from Tango performances to contemporary musicals & classical performances of Polish & European repertoire.