Wine..lots of it
Wine.. lots of it. As the capital of Tuscany, Florence has remarkable wines, most notably the deep red wine Chianti Classico. You'll also find fine wines like the Brunello di Montalcino, Pomino Vin Santo, and other Trebbiano white wines, and Moscadello varieties for sweet wines.
You'll find wine festivals in Florence more often than in any European city, and during the summer they run almost every week. In addition, every restaurant, every cafe, and sometimes every vendor on the street sells some of the region's best wines.
Not many regions have a signature wine outside of France, but Tuscany is famous for its Chianti, made with perfect purple Sangiovese grapes grown in the golden sunlight of the Tuscan hills. True Chianti is only produced in the hills of Chianti, about thirty kilometers south of Florence; the version made in the hills directly overlooking Florence is Chianti Colli Fiorentini. There is a wide variety of Chiantis here, but all are made primarily from the Sangiovese grapes grown locally.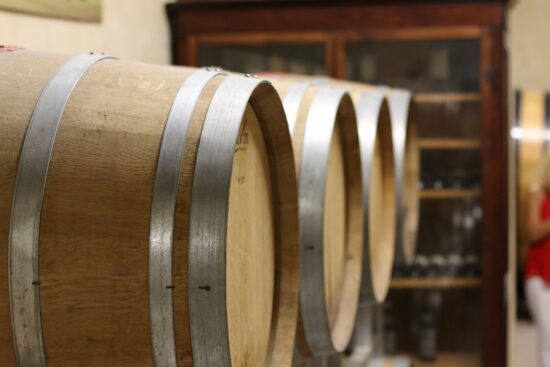 These grapes give Chianti a unique flavor, with a fruity aroma and spicy undernotes. Most Chiantis only have 70% Sangiovese grapes, with a blend of white grapes as the other ingredients, but all are of high quality. Chianti is inexpensive as wines go, and it goes down smoothly and easily. If you want a finer Chianti, you can pick up a Chianti Riserva, which is aged for 38 months rather than the traditional four to seven months. Drier Chiantis are labeled Chianti Superiore (but the Chianti Classico is never labeled Superiore).
Trebbiano Toscano is a sweet white grape, along with Malvasia grapes they are the typical blend added to chiantis that aren't pure Sangiovese. Trebbianos are often converted into brandies, which is good as the wine itself is very mildly flavored and does not keep well. If you're looking for a wine that keeps well and that you can transport home, don't go for this one; instead, have it for dinner in Florence with your fish or chicken dishes.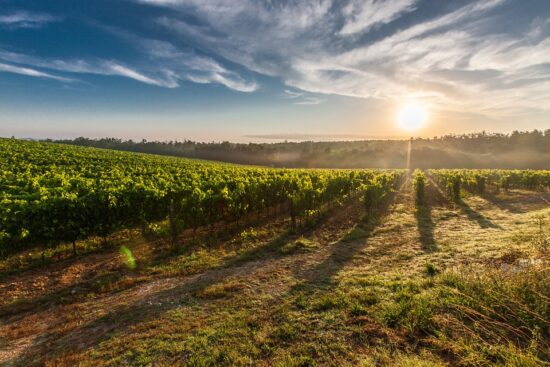 Pomino Vin Santo is the most popular of the trebbiano-based wines in Tuscany. It is a white wine blend of Trebbiano and Malvasia grapes. It's a dry wine with a fruity, nutty flavor. If you want a real red wine treat, try Brunello di Montalcino. This wine is made of brunello grapes, one of the Sangiovese grape clones, and the grapes are grown in the real Chianti region about 70 miles southwest of Florence.
This is one of the more expensive wines in the region, and it ages very well. Because it's made from a blend of grapes grown in two different microclimates, the Brunello di Montalcino has a very complex flavor, compared to Pinot noirs, and is strong enough to pair with grilled meats and game.
Brunello di Montalcinos are released as normale or riserva; normale are aged 50 months, riserva for about 62, and the wine can improve with age for as long as 20 years, sometimes longer. (Description by https://firenzealbergo.it/)