Boheme
Boheme is a poem. Excellent suggestions for culinary delights and tasty searches whether you choose to enjoy breakfast, coffee, exquisite food, or superb cocktails and drinks, are perfectly combined with the unique place Bohème is located. Built by the Venetians, the building hosting Bohème was part of the cells of the monks of the Monastery of Saint Francis.
The plane tree dominating the courtyard and offering its shadow is about 400 years old and the sole witness of the history of the place and the people who lived here. In this place the first Soft drinks factory of Chania "Nectar" was established in the beginning of the 20th century, later on it hosted legendary bars and restaurants such as "Ideon Andron", "The Magic Flute" and the Chinese restaurant "Suki Yaki".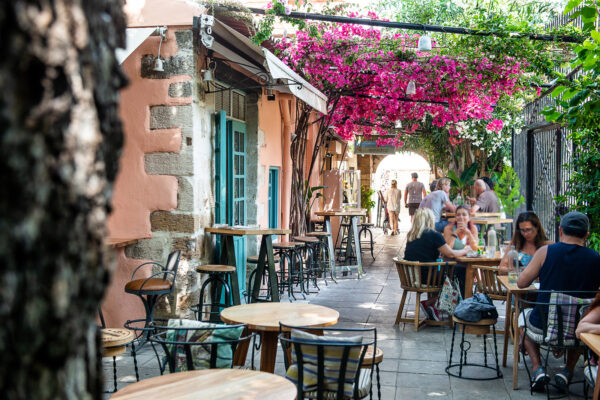 The roof of Boheme is made of slats of the interwar German Railway and is decorated with original works of the great Greek artist Giannis Kyrou. Boheme's touch to this unique place was made in respect of the history of the Old City of Chania with the hope that the result will delight you. Excellent dishes, combining the best that the island has to offer with special emphasis on unique flavors of Cretan herbs and biological products of mother earth. Travel to magical places with exquisite cocktails, that the well-established bartenders of Boheme will prepare for you.