VISIT NEIGHBORING RETHYMNO
VISIT NEIGHBORING RETHYMNO. Obviously, this is something you should do for all sorts of reasons. First off on the list, Rethymno is beautiful and petite. You can walk almost all of its historic center in a day and see just about everything. For some visitors, Rethymno retains more authentic elements of Cretan individualism within the core of its old alleys. We don't share the same view although we do believe that these two cities, Rethymno and Chania are a perfect set of twin cities.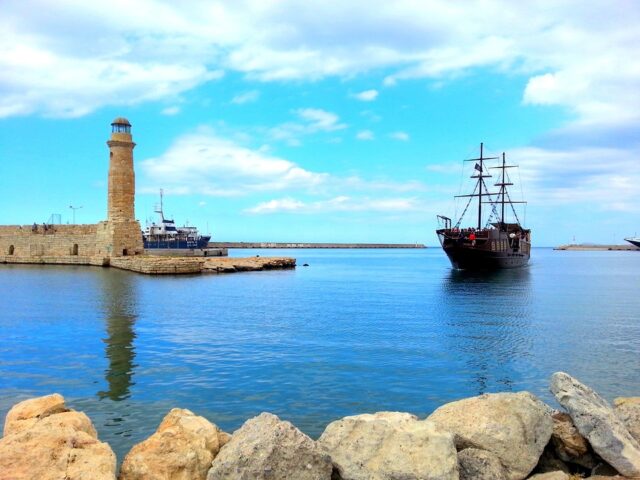 They are more or less similar but also complementary.. they seem to fill each other's blank spots. Where Rethymno lacks, Chania provides and the other way around. The most common day trip for most locals on both sides of the line, people from Rethymno like to visit Chania on a weekend and people from Chania like to go out and party. Rethymmo has a more vibrant nightlife than Chania despite being smaller in population. The large female population of the local university has turned this cute town into a go-to for all bachelors across Western Crete. Rethymno is a more or less walkable and cyclable town. The cafes, restaurants, clubs, taverns, and beachfront bars are numerous and many of them are truly magnificent.
Begin your day walking the old town, go up to the beautiful Fortezza fortress, visit the local archaeological museum and when time comes sit down in one of the local taverns to enjoy a local traditional treat but trust us on this. Go out for a drink after that. That way you won't leave any aspect of it out. Rethymno definitely deserves a whole day and night. For a more high-end dinner, you probably have to leave the core of the center and head westwards, just after the local bus station. There is a long line of high-quality eateries there, like our favorite, the Prima Plora Restaurant. There's a large parking space over there so you can opt for a car ride, if your time is too cramped, if not it's just 10 to 15 minutes away on foot, so a good opportunity to do a proper digestion.