Muccuni and vaccareddi
Muccuni and vaccareddi. The vaccareddi are also known as favaluci , vavaluci and babbaluci , or crastuni , in their larger version, with the shell covered with shades of green. These are the typical land snails and are part of the gastropod family. They are found mainly in the fields at the first light of dawn and after heavy rains. In the summer, they huddle in clusters around dead branches and weeds. The muccuni are sea snails and have a mollusk inside them that has all the flavor of the sea. Both are also eaten in other parts of Italy and the world as well, but this is the Catania version.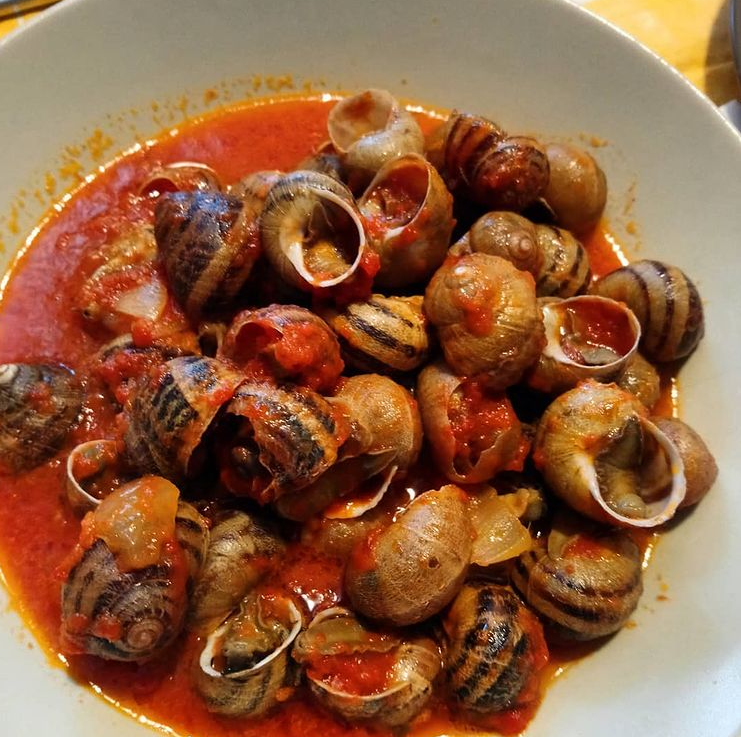 In the past, the vaccareddi were the basis of the peasant's diet because of their ease of harvesting, especially after the rains. Once caught, they were placed in large pots with cold water, exposed to the sun's rays, and abundant breadcrumbs were added to them, which these animals were greedy for. The snails were cleaned internally before being cooked. The Romans raised snails in the fields near their homes which were regarded as delicious meals.
The Phoenicians and the Greeks even used muccuni for dyeing fabrics. Vaccareddi and muccuni do not need numerous ingredients for their preparation: olive oil, garlic, parsley, pepper or chili pepper are enough. A tip is a must: the vaccareddi must be left to drain in cold water at least for one night with the crumb. Then they should be placed in a pan and brought to a boil over a slow flame.
The warmth of the water will make the mollusc come out and it will become easier to eat. Put a few cloves of garlic, olive oil in a pan and let it cook. Once cooked, garnish them with a good sprinkling of parsley and finally pepper or chilli. The muccuni are also prepared in the same way. There is a variant that also uses onion and tomato in the sauce. In this case, the clean-up with the Catanese bread becomes a must!