Liberty Boutique Hotel
Liberty Boutique Hotel (Boutique Hotel). In the heart of the city, a beautiful Liberty-style Villa, of the early 1900, has been transformed, through a special recovery work, into a luxurious but quiet and intimate boutique hotel. The location, next to the historical and commercial centre of Catania, makes it the ideal place for a comfortable business stay or a pleasant holiday.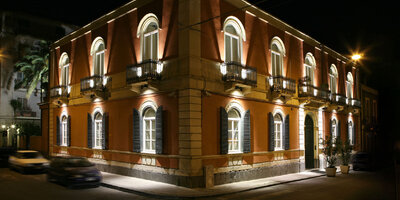 The exclusive and personalized hospitality is full of Mediterranean warmth and friendliness. The precious decorations, the elegant and sober interior furnishings, give harmony to the whole environment, and the attentive research of every detail, makes your stay a unique experience in an old fashion style.
By the main hall, visitors are immersed into the atmosphere of Liberty Hotel, since their first steps. The large glass window allows an incoming light that irradiates the whole lobby, overlooking the winter garden. The pavement, decorated in typical sicilian style, and the original lamps, characterize the enviroment. The bar area is in the lobby, and it is possible to enter the "Lanzerotti Hall", suited for relaxation and conversation. At the front desk, Valentina and Antonio welcome you, and they will be ready to meet every Guests' need or request, with professionalism and friendliness.  In the original and cozy Winter Garden, you can have your breakfast, or you can enjoy a drink or a delicious sicilian pizza. All covered in white jasmine, that, in May and in October, flowering, spreads a magnificent and delicate smell.