Halászlé
Halászlé. Hungary is a landlocked country. That makes traditional fish-food recipes a rarity. Except for but one case. That's the fish dish known as halászlé, which translates into fisherman's soup. The fish are usually a mix of river fish (carp, catfish, perch) with several variations depending on the region. Szeged halászlé (made with four types of fish) is the most common. The spicy broth is of course filled with the omnipresent paprika and is a real favorite among the locals and a common delicacy in food fairs and river festivals across Hungary.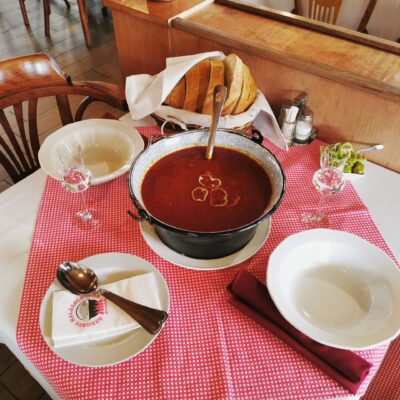 For one of the best fish soups in the city you should head to Szegedi Halászcsárda . This restaurant is located in the popular downtown area of Budapest, between Erzsébet (Elisabeth) and Szabadság Bridges, on Belgrád rakpart (Belgrade Quay) next to the International Port, only a few minutes away from the tram stations of Március 15 Square and Fővám Square.
Its guests can taste the original, widely known "szögedi" (i.e. "originating from the city of Szeged") fish dishes right on the riverbank of the Danube, sitting outside at the inn's terrace in the summertime, and inside the restaurant on chillier days, accompanied by authentic Gypsy music. The SZÖGEDI FISHERMEN'S SOUP, as a concept, has become almost synonymous with the name of the owner, Venesz Award-winner master chef Sándor Frank, and over the last few decades has attained recognition not just throughout the country but, we dare say, all over the world.